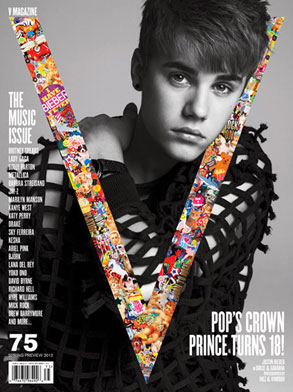 V Magazine
Sex, drugs and rock 'n roll pop? Not for the squeaky-clean and staying that way Justin Bieber.
It should come as no surprise to Beliebers that 2012 is primed to be the year the singer becomes a man (or at least turns 18), and while for some artists, that means an aggressive push of proving both a more adult sound and more adult behavior, Justin's more impressionable young fans (and their parents) don't have to worry about that.
"Here's the thing: I think that I don't need to try to do anything," the V cover boy told the magazine in this month's issue. "There are people who try to grow up too fast—they're 18, so they're like, I'm not a kid anymore. People need to know I'm not a kid anymore. But at the end of the day, I'm not completely grown-up. I'm still learning.