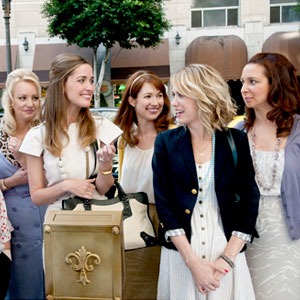 Suzanne Hanover/Universal Studios
Kristen Wiig may not be writing a Bridesmaids sequel right now.
But that doesn't mean she won't do it at some point down the line...
Wiig's Bridesmaids costar Wendi McLendon-Covey says it's still very possible that Wiig will be a part of Universal's much wanted sequel. (E! and Universal are both part of the NBCUniversal family.)
"She never said that she didn't want to do it," McLendon-Covery told us at Audi and Martin Katz's 2012 Pre-Golden Globes party at Cecconi's in West Hollywood.
"All she said was that she's not working on it right this minute because someone gave her the opportunity to write and direct her own film so, duh, she's going to do that first. So no. I think all she's waiting for is for her and Annie [Mumulo] to come up with an idea that's equally as good."
In addition to several upcoming flicks and her gig on SNL, Wiig is currently adapting the novel Clown Girl, which she hopes to direct.
McLendon-Covey says we all just need to give it some time. "It just won't happen in the next six months," she said.
So what would a Bridesmaids sequel be about?
"There's always divorce parties," McLendon-Covey smiled. "There's always baby showers. There's all kinds of hideous things like that that women do."
Sounds like fun to us.