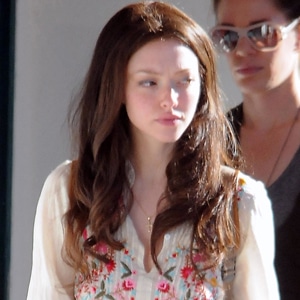 Ramey Photo
Get ready to see Amanda Seyfried like you've never seen her before.
We just got word that the Mamma Mia! starlet is stripping way down for her role as famed Deep Throat porn star Linda Lovelace in the upcoming biopic Lovelace...
"It's going to be very risqué," Patrick Muldoon, a producer at the Lovelace production company Eclectic Pictures, told us at Audi and Martin Katz's 2012 Pre-Golden Globes party at Cecconi's in West Hollywood.
But don't go thinking this is some sort of porn disguised as an indie flick.
"It's a new thing for her, but it's not about nudity," he said. "It's profound, the performance that she's giving...She's doing such an amazing job. We're about two weeks into filming, and the movie's going to be incredible.
"Thematically, it's talking about how abusive the porn industry was to Linda Lovelace," he said. "Yes, there's a lot of nudity, but it's a message movie about respecting women."
It was recently announced that Demi Moore will be joining the film to play feminist icon Gloria Steinem. Lovelace will also star Peter Sarsgaard, Sharon Stone and James Franco.
(Editor's Note: In the original version of this story, Muldoon identified himself as a producer of Lovelace. We have since learned that he is a producer with the movie's production company Eclectic Pictures, but he is not currently producing Lovelace.)
What do you think of Seyfried taking it all off for the porn star flick? Sound off below.