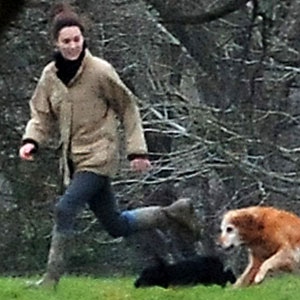 Flynet UK/FameFlynet Pictures
Finally, there's a break in the mystery of the decomposed corpse found at the Queen's Sandringham Estate on New Year's Day.
As Royal watchers know, Prince William, Kate Middleton, Prince Harry and more spent the Christmas holiday (as seen in the photo) at the palatial 20,000-acre residence only to learn that a few days after their departure a dog walker had found unidentified remains in an isolated field which the Royals routinely use for pheasant and partridge hunts.
Here's what Norfolk police have learned:
Per British media reports, the body belonged to 17-year-old Alisa Dmitrijeva, who had been missing since Aug. 31.
Forensic investigators were able to match the victim's palm prints to prior records for the Latvian teenager, as well as DNA taken from a thigh bone, and say it's highly unlikely she died of natural causes, though there's been no evidence she died of accidental injury or from firearms or any kind of blunt weapon.
Norfolk law enforcement officials are now seeking witnesses who may have seen the teen between her last known sighting and Sept. 6.
Police confirmed they have talked to two men said to be acquaintances of Dmitrijeva who acknowledged giving her a ride in a green Lexus on Aug. 31. A spokesman said, "She clearly knew these men and trusted them. We believe she got into the car voluntarily."
He also shot down speculation that Dmitrijeva had a drug problem or worked in the sex trade, noting "there's no evidence of either at this stage."
Police have interviewed Sandringham's gamekeeper and the estate's manager among others and are keeping the Queen apprised of the probe's progress.
Her family released a statement of its own to the news media saying they are "devastated" by Alisa's death.