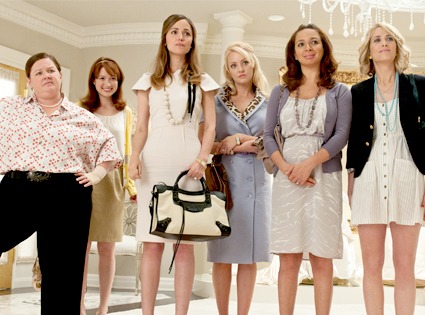 Universal Pictures
Will Kristen Wiig make a Bridesmaids sequel?
That's the big gazillion-dollar box-office question.
If she does, awesome! If not, then what?
Universal is said to be considering a follow-up even if the Saturday Night Live funny lady isn't on board. (E! Online and Universal are part of the NBCUniversal family.)
The movie's breakout star, Melissa McCarthy, says she won't be showing up again unless Wiig does.
"God, I wouldn't want to," McCarthy told me on Saturday at the Palms Springs International Film Festival gala. "I would never want to. I think it's a terrible idea."
McCarthy said she doesn't know what the studio is planning.
"I don't anything about it," she said. "But I know that nobody wants to do it unless it's great. If it is, I will show up wherever those ladies are."
Wiig recently told the Hollywood Reporter that she and Bridesmaids cowriter Annie Mumulo aren't planning a sequel—at least not right now. "We are writing something else," she said.
Jon Hamm, who played Wiig's douchy friend with benefits in the raunchy comedy, first told me back in September, "I don't think Kirsten is going to do it."
Now we want to hear from you. Should Kristen Wiig write another Bridesmaids? If she doesn't, should a sequel be made without her? Sound off below.