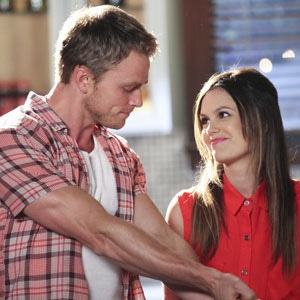 Greg Gayne/The CW
If any TV show were a live-action Taylor Swift song, it's the CW's Hart of Dixie. 
So color us insanely excited when we got our hands on this exclusive new promo for the Rachel Bilson-fronted show, which is set to—you guessed it—a Swift song! Talk about one of our dreams come true. The song used in the promo? "Sparks Fly," which definitely applies to one of the show's core couples: Zoe (Bilson) and Wade (Wilson Bethel). Fans of the adorable couple will be excited to know one of them makes a swoonworthy confession in the promo. Seriously, prepare for major swoonage!
What else does the promo tease about the show's midseason return on Jan. 23?
Wade goes all in! Yes, Wade finally lays it all on the line and tells Zoe how he feels about her. "I like you, Zoe. It kills me." You know what kills us, Wade? Your absolute perfection. And your adorable sad face, which Bethel recently told us will be making a big comeback when the show returns. 
When we asked Bethel to give Zoe and Wade fans a little tease, he went above and beyond, telling us, "Here's my suspicion: My suspicion is that the season is going to end on a Wade and Zoe upper, so if you can possibly stick it out til the end of the season, I think the viewers will be very very happy. That's just a suspicion, I haven't even seen what exactly is happening at the end of the season, this is just a little bit of my own intuition creeping in here."
While the (sometimes literal) sparks between Zoe and Wade are highlighted in the promo, so is the connection between Zoe and town goldenboy George (Scott Porter), which has slowly been developing since the pilot. While Zoe and George both decided to end their flirtation in the midseason finale, it doesn't mean everything will be puppies and rainbows for George and his fiance Lemon (Jaime King). "We haven't connected at all on any level in quite some time," he tells her. "I'm having doubts." Ruh-roh!
Hart of Dixie returns Monday, Jan. 23 at 9 p.m. on the CW.
So are you loving this completely literal translation of Swift's "Sparks Fly" as much as we are? Who do you want Zoe to end up with: Wade or George? Do you think George and Lemon will call off their wedding?