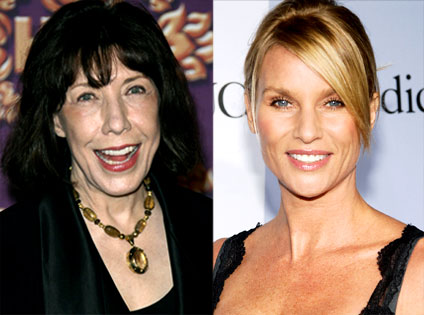 Todd Williamson/Getty Images; ZumaPress.com
Sheridan's pissy; Lily's movin' in. That's what terribly inside Desperate Housewives tattlers tell us happens to be the sitch over at Marc Cherry's prime-time soap set at ABC.
"Nicollette's always the one causing the most trouble lately," sassed our deep Desperate insider, "it's not that the other gals are so difficult anymore."
Man, is that ever saying something. Remember when all that Vanity Fair merde hit the fan, about how Teri Hatcher and Marcia Cross were supposedly separated at blood-dripping-claw range? Times sure have changed.
How, exactly? What's causing the fuss? "It's lighting now," revealed the D.H. know-it-all. "It's always about the lighting. Nicollette's asking for fixes, changes, takes forever." How very Faye Dunaway! "And her lines," added our loose-lipped boob-tube source, "she can sometimes have a bit more trouble with her lines than the others." Maybe that's because her concentration is on filters, instead? "And the ex, too, don't forget," reminded our Desperate mover 'n' shaker, referring to Sheridan's recent bustup with singer/fiancé/hair-do-er Michael Bolton.
Nic's très sad, apparently, which we coulda told ya back when we reported how much N.S. was grilling partygoers about her former fiancé, but that's old news.
What's new is that Nic's nosy nabe Kathryn Joosten is getting thrown into the mental farm, thanks to Susan's conniving new hubby, so we're told (isn't simply living on that insane street like living in an asylum, already?), and gets sprung by her about-to-arrive sis, played by Lily Tomlin, which is pretty rich.
Remember when Joosten got offed from her big supporting role as President Bartlet's secretary on West Wing? Who came into to take her place? That's right. Lily. Turns out it was Joosten's idea on this recasting bit, but then, that very well could be lipsticked goss that comes from a silly pig, or something. But it doesn't. Trust us.
Welcome, Lily! And calm down, Nic! You'll find another man. And besides, how a damn light's angled—or not—is not going to expedite his arrival. In fact, it might delay it.
By the way, we just heard back from Ms. Ss droll, if not highly accurate press rep regarding her clients exacting lightbulb habits:
"Nicollette and all the girls like good lighting," the repper sassed sagely. "Wouldn't you?"
Yep, and jeez, why the ef can't all publicists speak the truth like this all the time?