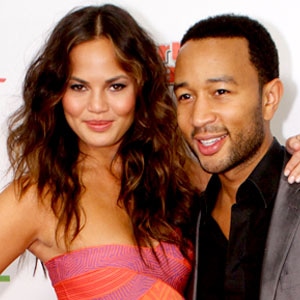 Jacob Andrzejczak/Getty Images
Let the wedding planning begin for John Legend and Chrissy Teigen!
As you may have heard, the gorgeous couple of over five years got engaged during the holidays while vacationing in the Maldives.
So now that Legend's put a ring on it, are the Grammy winner and his model fiancée already trying for kids?
"That's not even thought about yet," Teigen told us while promoting Scouted to Stardom, her new E! special premiering Monday at 9:30 p.m. "Obviously, you marry somebody and expect to have children with them, but right now priorities are just different."
One of those priorities is planning their pending nuptials.
"In my mind it's just like an explosion of ideas, but on paper it is just absolutely nothing," says the 26-year-old. "I'll tell you this—the ceremony will be short."
As for the dress, Teigen dished, "I know I don't want anything too satiny, shiny, hard crazy. I'm not going to be that ball-gown girl at all. I don't want to shock the guy coming down the aisle. I just want to be myself."
And it's only natural that Legend will sing during the wedding party, right?
"I guess so, right?" she laughed. "Do I have to pay him, do you think? No pressure, John."