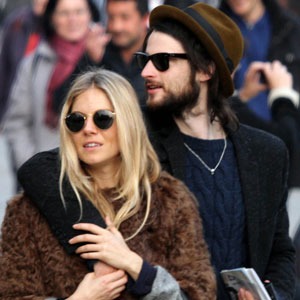 Maurizio La Pira / Splash News
When it comes to Sienna Miller and Tom Sturridge, there's obviously a lot more going on than just a little PDA.
So much so that the two lovebirds are now expecting their first child together.
Oh, and if that wasn't big news in and of itself, get this: The 29-year-old actress is not only pregnant, but is reportedly betrothed to her baby daddy as well!
Guess this means things definitely have gotten serious.
While reps for both Miller and Sturridge have yet to respond to E! News' requests for comments, one person has confirmed the pregnancy news—Sienna's sister, Savannah.
"THRILLED," she tweeted regarding her sibling's pending bundle of joy, first reported by Us Weekly.
Later, when one of her followers wrote how there's "no greater feeling than welcoming a new life into the world in the comfort of home," Savannah replied with a simple "thank you."
As for being engaged, Life & Style cites a source saying that Sturridge popped the question with a vintage Victorian ring during a post-Christmas trip to Paris.
The Factory Girl star, whose famous on-again, off-again relationship with Jude Law finally came to an end in early 2011, began seeing 26-year-old Sturridge last March.
News of them being an item spread like wildfire after the two were spotted getting cozy during a dinner date in London.
Congrats to the happy couple—on both fronts!