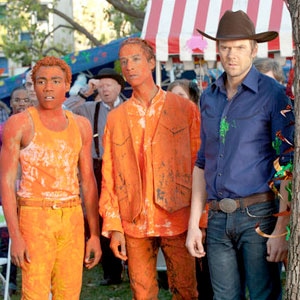 Lewis Jacobs/NBC
Six seasons and a movie is still a possibility!
Yes, the midseason shelving of Community was addressed today by NBC Entertainment Chairman Robert Greenblatt, who wanted everyone to know, loud and clear, that the Joel McHale-fronted show is sticking around.
"Community is not canceled," he told reporters at the Television Critics Association press tour, endings weeks of speculation that the comedy would be quietly phased out of the schedule.
But when is the show returning? And how is a fourth season looking? Plus, Mariska Hargitay herself addressed the rumors of her exit from Law & Order: SVU—and introduced an awesome (and handsome) new guest star who may be loving up Det. Olivia this spring.
Finally, is Alec Baldwin flying away from 30 Rock?
Here are the biggest storylines from the early NBC session (NBC and E! are both part of the NBC Universal family):
Community Lives On...but for How Long?: Greenblatt addressed the Community controversy early on, taking responsibility for the flak the network received when the cult comedy was taken off the midseason schedule. "I failed to explicitly say it will be back," Greenblatt said. Now, he's assuring us that the show is "not quietly disappearing" from the schedule and "it will definitely be back later this spring." Wheeee!
While the little comedy that could is definitely returning, it probably won't be in the same timeslot, Thursdays at 8 p.m. Greenblatt said he'd like to see another show start off the night. "I'm really curious to see what something else will do there." 
As for a fourth season at Greendale Community College, Greenblatt said, "I don't know. I think we're just going to look at the success of what pilots yield, what the schedule's needs are and make that decision close to the Upfront [in May]." Come on, Greenblatt. Don't be the opposite of Batman. 
Michael Simon/StarTraks; Art Streiber/NBC
Benson Isn't Pulling a Stabler: Fret not, Law & Order: SVU fans: Mariska Hargitay is in it for the long haul. "Mariska Hargitay isn't leaving Law and Order," Greenblatt stressed. "She's in every episode of the show this year." Bonus? Olivia Benson is getting a love interest, and it's a good one: Harry Connick Jr. Go on and squeal, we'll give you a moment. The crooner and former Will & Gracer is set to appear in four episodes beginning Jan. 18 as Executive ADA David Haden. "I get to talk like an educated person," Connick joked of his new role. 
"The show is very fortunate to have Harry's extraordinary talent, and I'm lucky because I get to work with my friend," Hargitay said of Connick's casting in a press release. "I think Olivia couldn't have asked for a better companion to take her through a new stage in her life and career."
In a fun little video, Hargitay and Connick show off their steamy chemistry and tease their "sexy time scene"! Connick also did a solid for SVU fans, asking Hargitay the question on everyone's mind: is she coming back next year? "Oh, I'm coming back," she asserted. "I'm having too much fun!"
Alec Baldwin Is Friending 30 Rock for Season 7: Greenblatt surprised reporters by revealing that the famous Words With Friender has already committed to a seventh season of the Emmy-winning comedy. "We have Alec for this season and next season," he confirmed. "We quietly did that in the fall." Alec Baldwin, quiet? "He's loud about certain things and quiet about other things," laughed the network honcho. 
Although its lead is committed, Greenblatt said 30 Rock itself has not been officially renewed for a seventh season. "We have not decided yet," he said, adding, "I'll decide by the upfront."
At least we know Baldwin has plenty of ways to occupy his time while waiting for the rest of the cast and crew to show up.
(NBC and E! are both part of the NBCUniversal family.)