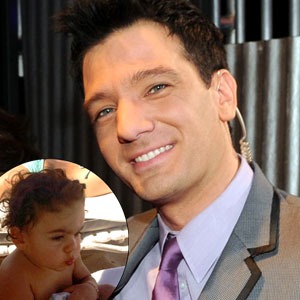 Courtesy of Mark Davis/PictureGroup
Justin Timberlake isn't the only former 'N Sync member making headlines.
While J.T. may have gotten engaged to Jessica Biel, his onetime fellow boy bander JC Chasez is also getting a bit of attention—for saving a kid's life!
While hanging out on the beach in Miami on New Year's Day, the America's Best Dance Crew judge quickly stepped into action when a helicopter hovering too low to the ground sent a large sun umbrella flying toward a 1-year-old girl named Shirel.
Chasez managed to block the parasol from hitting the youngster as she sat with her family on the sand.
The mother of the child, Italian jeweler Netali Nissim, described the incident exclusively to E! News.
"My family came from Italy and we were all sitting on the beach," recalled Nissim.
She said her daughter proceeded to say hi to Chasez and his girlfriend and Nissim's family and the couple began chatting.
"I'm from Italy, so I didn't know who this guy was," Nissim pointed out. "But JC called my daughter precious and adorable. He and his girlfriend were so nice."
As everyone continued to sunbathe, Nissim said her daughter was following birds and pointing at planes when suddenly a helicopter passed very closely to the shore.
"It was a black helicopter," she said. "It was pasing so close and not even fast, just leisurely passing by."
While Nissim initially didn't notice any wind as the helicopter flew by, a few seconds later a wind that Nissim described as tsunami-like pushed their beach umbrella out and sent it flying over them.
"And in that moment, JC jumped in the middle, the umbrella hit him on his shoulder and he put it back in the ground," said Nissim. "This wasn't a rain umbrella, it was a heavy parasol and the wind was so strong it could have landed right on top of her. Right after he blocked it, the umbrella covered them both, so I was worried. When I realized he had protected her, I was so thankful."
After everyone had calmed down over the close call, Nissim said her family spent the rest of the sunny day with JC and his girlfriend.
"They were very sweet. We talked about New Year's Eve," recalled Nissim, adding with a laugh: "I didn't even know who he was until after. My husband told me he was a famous singer."
Nissim said she is trying to send JC a gift to thank him for his bravery.
"In Italy, that is what you do if someone does something. If someone helps you out, or saves your daughter, you send a gift to show your gratitude. It's a tradition. It's appropriate."
(Originally published January 6, 2012, at 7:39 a.m. PT)