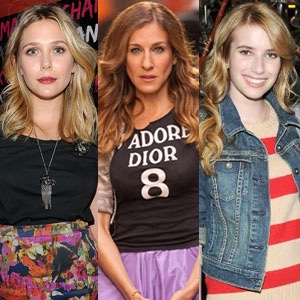 HBO, Getty Images, StarTraks
Sex and the City is coming to the next generation via the CW, which means TV is getting a new Carrie Bradshaw.
The CW is currently underway casting for The Carrie Diaries, a series based on the prequel books to Sex and the City, which follows Carrie in her younger years. So what kind of gal are they looking for?
The new Carrie is described as a "quirky, charming, witty 16 year old," who unfortunately has "a complete lack of knowledge about love, sex and relationships." Carrie will also have a growing sense of fashion (Duh. We're already drooling thinking about the shoes), and she's dealing with the recent loss of her mother.
So, taking all that in, we started thinking about ladies who could possibly fill Sarah Jessica Parker's younger shoes. The lucky girl needs to be able to portray a teenager, and kids in Hollywood today just keep looking older and older. At this point, we'd like to see a lesser-name actress tackle the role, but we do have some ideas on bigger names to bring Carrie to life.
For example, Elizabeth Olsen (sister to Mary-Kate and Ashley) had a big year in 2011, and we could see this beauty in the role of a budding fashionista. Emma Roberts is another starlet whose name has been tossed into the mix, and we'd be on board with her getting cast. Ashley Tisdale has played a high school girl for half of her career, and we'd like her back on our TV (RIP Hellcats).
Other ladies we wouldn't mind seeing? Dianna Agron (she needs somewhere to go after Glee), Sara Paxton (The Beautiful Life) and Brittany Snow, who pulled off the '80s look during a Gossip Girl flashback.
Your turn! Which young actress (or someone who could play a 16 year old) would be right for the part of Carrie?