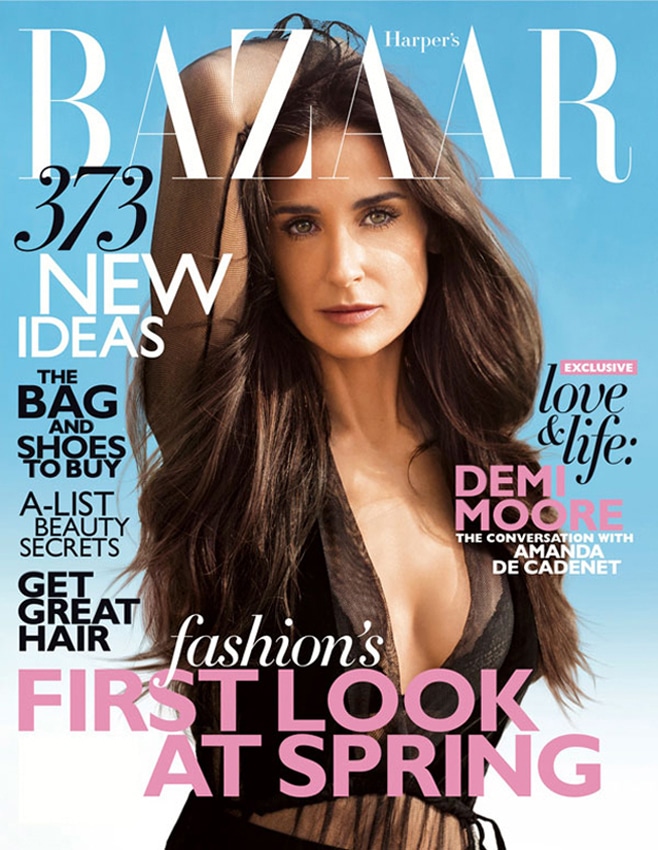 Harpers Bazaar
It's a whole new world for Demi Moore.
Just a week after the actress separated from husband Ashton Kutcher, she sat down for a heart-to-heart with good friend and photographer Amanda de Cadenet to talk about relationships and body image in the latest issue of Harper's Bazaar.
Although the mag's February cover girl never mentions her ex specifically, she does reveal about her post-split reality, "What scares me is that I'm going to ultimately find out at the end of my life that I'm really not lovable, that I'm not worthy of being loved. That there's something fundamentally wrong with me."
Despite that fear, the 49-year-old star makes it clear she's moving forward with her life.
Moore explains she's focusing on "truly being in the moment. Not reflecting on the past. Not projecting into the future. Not caring more about what other people think than what you think. That's freedom."
The mother of three also addressed her weight, which created a lot of buzz recently after she appeared thinner than ever in the midst of her marital woes.
"I have had a love-hate relationship with my body," Demi revealed. "When I'm at the greatest odds with my body, it's usually because I feel my body's betraying me, whether that's been in the past, struggling with my weight and feeling that I couldn't eat what I wanted to eat, or that I couldn't get my body to do what I wanted it to do."
But with age, comes wisdom.
"I sit today in a place of greater acceptance of my body," Moore says, "and that includes not just my weight but all of the things that come with your changing body as you age to now experiencing my body as extremely thin—thin in a way that I never imagined somebody would be saying to me, 'You're too thin, and you don't look good.' "
Moore and de Cadanet are executive producers of The Conversation, a new Lifetime series in which high-profile stars like Lady Gaga, Gwyneth Paltrow and Jane Fonda talk about the challenges they face as women in their daily lives, premiering this spring.
Cedric Buchet for Harpers Bazaar