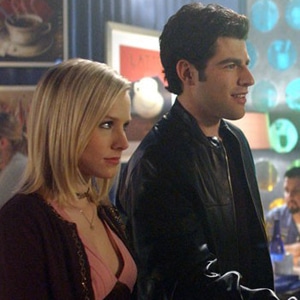 The CW
We always knew Max Greenfield, he who turned an egotistical tool (Oh hi, New Girl's Schmidt!) into one of TV's most lovable characters, was awesome, but it wasn't until we chatted with him about Veronica Mars that we learned just how freakin' amazing the dude is. 
"Wasn't it the best show?" he asked us during our chat, signifying to us that he really is perfect. "That first season was one of the best first seasons of TV ever." To this we say: word. 
Obviously, we had to ask Greenfield, who played Deputy Leo aka Neptune's nicest police officer ever, if he'd be down to reunite with Kristen Bell, she who brutally rebuffed his character for Logan Echolls (Jason Dohring), on his hit new comedy New Girl...
"I'm so into it, it's not even funny," Greenfield tells us. "I think it's really possible."
Wait, let's pump the brakes and rewind for a second: Did Greenfield just say it's a real possibility that we will see the eternally smiling Deputy Leo and TV's cutest P.I. reunited onscreen? Though House of Lies, Bell's new comedy for Showtime, debuts Jan. 8, Greenfield says there's still time for the blonde to make an appearance on the Fox show. "I feel like they're done shooting House of Lies and I think we have nine more episodes to film," he reasons. "Yeah, OK, let's do it!"
"Kristen is one of those people who, unlike a lot of actors, are down. They're not like, 'Oh, I'm scared,' or 'Oh, I don't know if I want to do that,'" Greenfield says of his former costar. "Kristen is the type of person that if you call her and she's available, which is seldom, she'll be like, 'Yeah! Let's go, let's do it.' So I think it's pretty likely. It would be pretty awesome. I love Kristen. I think that she is so talented and hilarious." 
Being huge Veronica Mars and New Girl fans, we couldn't resist pitching Greenfield a few casting ideas, like Keith Mars himself Enrico Colantoni as Nick's (Jake M. Johnson) father, which we first spitballed here. Greenfield's response? "That's actually a really good call!" Anyone else think we should quit this whole reporting thing and become casting directors? No? OK, carrying on then...
Greenfield is also pushing for something you V.M. fans have been wanting for a long time. "You know what? They should do a movie," Greenfield tells us." Oddly enough, I was thinking about that today, I don't know why. I swear to God I had gone to the gym and I got out of the gym and I don't know why I was thinking this, but I was like, you know, they should do a movie. It shouldn't even really relate to any of the storyline. They can hint toward the storylines from the show, but because [Kristen] is so much older now, they could do a really cool, dark and edgy movie mystery, totally separate from whatever happened in the show."
Now we want to hear from you: Would you like to see Bell guest star on New Girl and share the screen with Greenfield again? Any other Veronica Mars stars you'd love to invite to the party? Sound off in the comments!