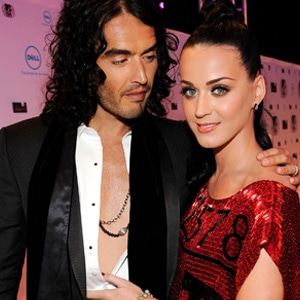 Kevin Mazur/Wireimage
Katy Perry and Russell Brand have called it quits (and we have to admit, we hoped the rumors weren't true).
Following months of troubled-marriage rumors, the kooky couple, who began their romance on a chance meeting at a music awards show, is no more. 
So as we bid adieu to their lovey-dovey tweets, affinity for Silly Bandz, and sometimes outrageous behavior, we pay tribute to the short-lived couple and how they came to be. 
September 2009: Katy Perry and Russell Brand catch each other's attention at the MTV Music Awards in New York City. It isn't their first encounter (Katy performed at the 2008 VMAs and Russell hosted the show that year as well), but it is one of the first times Katy spends time with the Arthur star after her breakup from Gym Class Heroes frontman Travis McCoy. Katy and Russell begin dating shortly after the music awards show.
October 7, 2009: The pop superstar and Brand take their romance public for the first time, stepping out at a Fendi show during Fashion Week in Paris. The duo remain mum on whether they are officially dating, however. 
December 7, 2009: Brand confirms Perry is indeed his girlfriend in a candid sit-down on Britain's GMTV. The couple had been photographed together, but had yet to confirm rumors that they were an item until that day.
December 31, 2009: Brand pops the question to the "Firework" singer in a tent at the foot of a mountain in India, where the couple is on vacation. 
October 23, 2010: Perry and her comedic actor beau wed Oct. 23, 2010, in a lavish ceremony at Ranthambore Sanctuary in India. Few details are released regarding the private couple's nuptials, but there are elephants and jugglers and acrobats. 
April 28, 2011: Perry takes legal action against Australian tabloid NW after it publishes a story alleging she cheated on Brand just months after they tied the knot.
July 18, 2011: In the wake of rumors of a separation, Katy and Russell hit the Twitterverse to let everyone know they are still going strong. "Just cause we don't flaunt our relationship doesn't mean there's something wrong w/it," Perry tweets. "Privacy is our luxury. #tabloidsrtrash #gossipisgross." And then Brand chimes in, tweeting, "You tell em Mrs Brand! In Britain we're currently dismantling the scum media so I'm not tuned in to their brain-farting."
November 22, 2011: More rumors surface, this time saying Perry is pregnant. She quickly slams the baby bump stories, saying, "I just have a fat upper-p---y area." "Sorry. I like In-N-Out Burger and Taco Bell, and if you want to make that pregnant, then that's your problem."
November 30, 2011:  The Katy/Russell rumor mill surges again. Several media outlets run with an unconfirmed story that Perry wants to divorce Brand, a "rumor" that a spokesman for Brand denies.
December 28, 2011: A source confirms to E! News that Katy and Russell have been having "problems" and have spent "a lot of time apart," including Christmas. Meanwhile, Katy is spotted frolicking on the beach in Kauai that weekend.
December 29, 2011: Brand fuels rumors of a split when he is spotted in London sans wedding ring. 
December 30, 2011: Brand files for divorce from Perry after a mere 14 months of marriage.