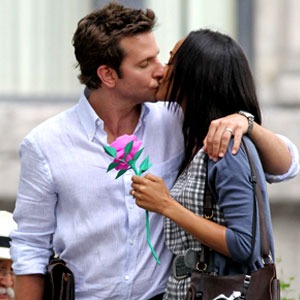 Bauer-Griffin.com
Now here's someone who does not prefer Ryan Gosling to Bradley Cooper.
The reigning Sexiest Man Alive and Zoe Saldana are dating and they're extremely happy about it, sources exclusively tell E! News. And we hear that the pair are just now starting to tell family and friends that they're an item.
What? You didn't expect either one of them to remain on the market for long, did you?
A rep for Saldana, who recently filmed The Words with—and got to practice kissing—Cooper, denied that the costars were anything more than friends a month ago, after their appearance together at a Manhattan nightclub prompted romantic speculation.
But as recently as last week, a source tells E! News, they were telling friends that they had plans to go skiing in the Rockies together over the holidays.
"They are totally dating," the source says.
Reps for both stars did not immediately return requests for comment.
Saldana and her boyfriend of nearly 11 years, Keith Britton, called off their engagement and revealed that they had broken up in early November.