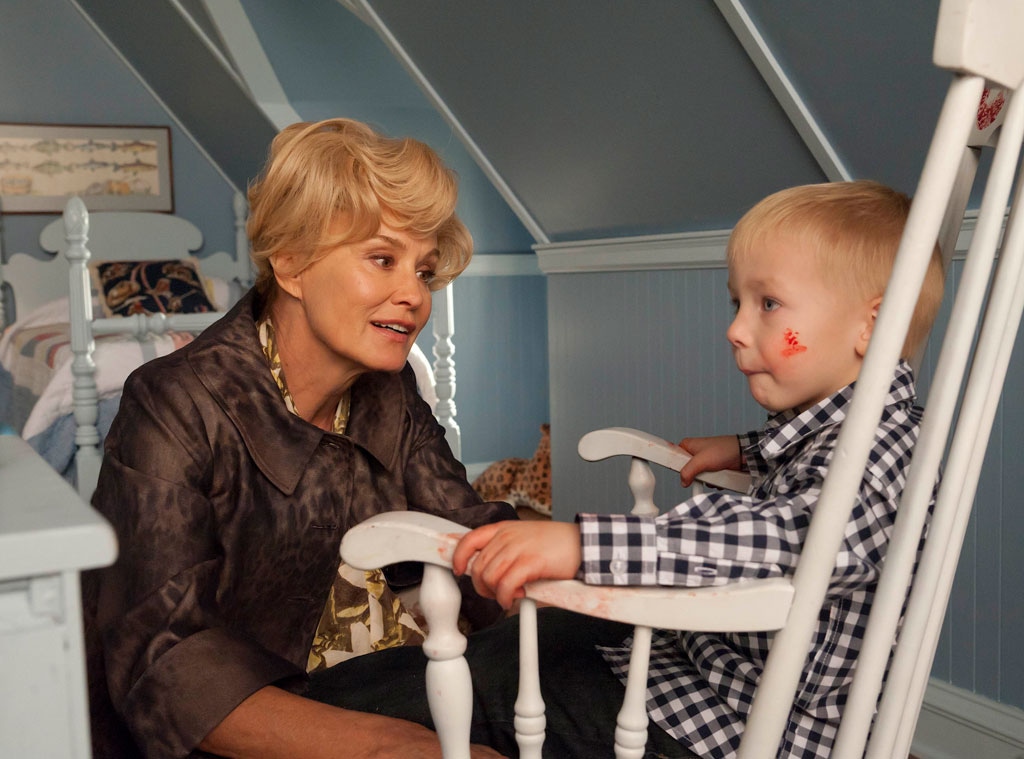 Prashant Gupta / FX
Not all American Horror Story fans were in agreement over how to take the season-one finale last night, but we can probably all agree that AHS was one of the most thrilling shows of the 2011 season.
We hopped on the phone with cocreator and executive producer Ryan Murphy, who revealed his plans for season two: new haunts, a new cast and returning actors in brand-new roles…
Season Two
New Cast and New Roles: While Ryan revealed that he is talking to "a handful" of the season-one actors about returning in new roles in season two, he told reporters that next year's main cast will be all new faces—which was the plan from day one. "Some of them will be coming back. There will be familiar faces and also some new faces," Murphy teased. "The people that are coming back will be playing completely different characters, creatures, monsters, etc. [The Harmons] stories are done. People who are coming back will be playing entirely new characters." Unfortunately, he stayed completely mum on which actors might be coming back. "I would have them all back in a heartbeat. I think we'll announce the full cast and what the new storyline is going to be some time in February."
New Location: "What you saw in the finale was the end of the Harmon house. The second season of the show will be a brand-new home or building to haunt," Murphy said. "Just like this year, every season of this show will have a beginning, middle and end. [The second season] won't be in L.A. It will obviously be in America, but in a completely different locale."
New Theme: This season's theme was infidelity, and season two will also have an overlying theme running through the episodes. "The season we're planning now is very different from the California house approach," Murphy revealed. Now here comes the cool part: "There is a clue in the last three episodes where we resay what the next season will be about." Get to searching, AHS fans! And since the new season will have a new building and location, the opening credit sequence will change as well, but Ryan said he will be "hopefully" using the same artist who created season one's incredibly chilling sequence.
Sorry, Twilight Fans: Ryan is excited to explore different ghosts and horror stories, but he will not venture into Edward Cullen territory. "No seasons about vampires, but anything else is fair game."
Movie Stars: Because the shooting schedule of AHS is much like a movie commitment (three months or so), and because each season will bring new castmembers, Murphy has targeted film actors who he's wanted to work with to join the cast of season two. He reasons that since they'll only be attached to the show for one season, he can bring on people who have film careers so they won't be locked down for five seasons. "This allows for those who haven't done television to step up and say 'let's do this,'" said Murphy. "I've been getting a lot of calls from film actors who have wanted to dabble in television but never could figure out how."
Season One Postmortem:

The Finale: Murphy promised that the finale was planned since day one, and he was very satisfied that the Harmons got peace in their deaths. "I love those characters and I mourn them. I will miss them," he says. "But I think as you see in the second season some of those characters will be returning. It was always the plan. I just hope that people who loved the show will love the second season, maybe even more so based on what we've already cooked up. I thought [the finale] was a great goodbye to those characters. We were simply not interested in doing another season with those characters trapped in that house. You just have to tell the story you want to tell."
Easter Egg Hunt: One good reason to rewatch from the beginning? Murphy insists there are plenty of fun clues fans can pick up on. "I think the clues of all the deaths and everything that happened are always there right from the beginning. And there are certainly several references to Dylan and hanging and noose stuff throughout the whole season. I think that'll be fun for fans to go back and look at all those clues that we were planting right from the beginning."
Ben's Happy Ending: A lot of fans wanted Ben (Dylan McDermott) to be punished in the finale, but Ryan thinks Ben got the happy ending he deserved. "To me if he would've escaped the house with that baby and started shacking up with some other girl, I think that would have been completely out of character for the series," he said. "So I think the way that he went was interesting and justified. I like that the whole family together had peace and absolution in their death and I feel that they all grew as characters. I think that we redeemed them in a cool, interesting way."
What do you think of Ryan's responses? Will you be tuning in for season two? Who do you want to see come back?