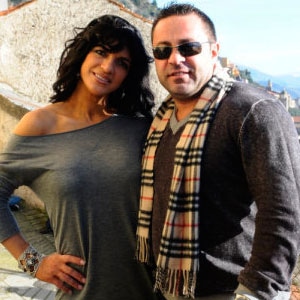 Salvatore Laporta/Bravo
Apparently Joe Giudice wanted to drive pretty badly, and now it may cost him big-time.
The Real Housewives of New Jersey hubby was indicted Tuesday in Passaic County, N.J., on charges he illegally obtained a fraudulent driver's license, E! News confirms.
Here's the deal:
Per the Passaic County Prosecutor's Office, the 40-year-old Giudice faces one count of wrongfully using identifying information and another count of impersonation after he unlawfully used his brother Pietro's personal documents in June 2010 to acquire a driver's license at the Paterson, New Jersey Motor Vehicle Office.
At the time, the reality star's own license was suspended after a DUI and remains so.
Giudice found himself on the receiving end of the accusations after his sibling was pulled over during a routine traffic stop and officers ran his license through a mobile data terminal only to find Joe's mug pop up in his place. Further investigation revealed Giudice applied for the license using Pietro's marriage and birth certificates and he was arrested in March.
Oops.
The first charge of wrongfully using identifying information carries a maximum of 10 years in prison while the second charge of impersonation is punishable by up to 18 months.
Giudice's lawyer could not be reached for comment on yesterday's indictment, while a rep for Bravo declined to address the matter.
But that's not the only legal woe Joe's had to deal with.
He and wife Teresa Giudice filed for bankruptcy in 2010 to wipe out more than $8.7 million in liabilities, only to see him abandon his petition in September. Teresa's petition still stands as of press time.