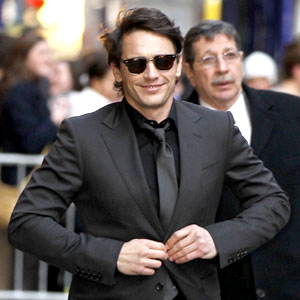 INFphoto.com
A disgruntled New York University professor just blew a big hole in James Franco's reputation as the actor who made picking up a master's degree (or three) in his spare time look easy.
José Angel Santana is now suing NYU, claiming he got fired after he gave the school's resident Oscar nominee a D in his Directing the Actor II class for his poor attendance record.
A rep for the school calls the claim "ridiculous," but, obviously, we're a little more interested in finding out just how many classes Franco supposedly skipped...
According to Santana's lawsuit, filed Friday in New York Supreme Court, the 127 Hours star showed up for two of the course's 14 sessions and had 12 unexcused absences.
"Santana, as a full-time professor in the department, had every right to give such a grade to a student who failed to adequately attend and participate in his class," the suit states.
And, the fired prof claims, other Franco had comparable attendence records for other classes within NYU's Tisch School of the Arts, but that other, apparently still-employed instructors, gave him higher grades.
Santana's suit actually doesn't lay the entire blame for his firing on his treatment of Franco, but his attorney tells E! News it was "the proverbial straw that broke the camel's back."
"Professor Santana, because of his ethnicity [Spanish] was treated unfairly by his department," says attorney  Matthew Blit. "He was paid less than other professors within the department and worked out of a storage closet as an office with water leaks."
"We would like him to be rehired," Blit tells us. "NYU was a top university to him and it was very hurtful to him" when he was let go. "He would accept [NYU's] apologies."
NYU spokesman John Beckman didn't indicate that that would be happening anytime soon, telling E! News in a statement:
"We have not seen the lawsuit yet, but the claims we are seeing in the media are ridiculous. Beyond that, it is regrettable and disappointing to see a faculty member—former or otherwise—discuss any student's grade for the purpose of personal publicity."
Especially when that grade is so below-average, right?
As for Franco, who has not yet commented on Santana's lawsuit, he rejoined the Tisch School this fall—as a member of the faculty! The actor taught a course on adapting poetry into films.