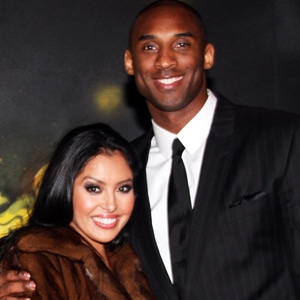 Johnny Nunez/WireImage
We've got to admit, we didn't see this coming.
Well, we saw it coming eight years ago, but when Vanessa Bryant (née Laine) filed for divorce from NBA superstar Kobe Bryant this afternoon after more than 10 years of marriage...it was a bit of a sucker punch.
But the point is, now Kobe is getting divorced. If you will, here's a trip down memory lane, from "I do" to "irreconcilable differences":
November 1999: A 21-year-old Kobe Bryant meets 17-year-old Vanessa Laine while he was at a recording studio working on a never-released hip-hop album and she was working as a backup dancer in a music video for Tha Eastsidaz' "G'd Up."
May 2000: The couple announced their engagement while Vanessa is still a senior at Marina High School in Huntington Beach. She eventually gets her diploma via independent study after the media made it tough for her to walk the halls like a regular person.
April 18, 2001: Kobe and Vanessa tie the knot at St. Edward Roman Catholic Church in the beachside town of Dana Point, Calif. Kobe's parents and sister, rumored to be opposed to the union, do not attend. Not exactly your most auspicious of wedding-day blessings. Heck, even his longtime agent, Arn Tellem, didn't attend. (Maybe Tellem was too upset by the rumors—that are being reported as truth today—that there was no prenuptial agreement.)
January 2002: The couple move into a palatial $4 million home in Newport Beach.
Jan. 19, 2003: Their first child, daughter Natalia Diamante Bryant is born. Kobe's estrangement from his parents ends upon their grandchild's arrival.
July 4, 2003: An arrest warrant is issued for Kobe in Eagle, Colo., after an employee at the hotel where he was staying (while in town to have knee surgery) accused the three-time NBA Championship winner of raping her on June 30.
July 18, 2003: Kobe is officially charged with sexual assault, a felony that could net him anywhere from probation to life in prison. With Vanessa at his side, the Lakers star tearfully admits to reports that he had a sexual encounter with his accuser—and insists it was consensual.
July 21, 2003: Seemingly in penance, Kobe gives Vanessa an 8-carat purple diamond ring worth a reported $4 million. (Ensuing reports have him ordering the ring two weeks beforehand, implying it wasn't a Hail Mary gift.) The first of his tattoos appears, as well: Vanessa's name with a crown, two angel wings and, underneath, the inscription "Psalm XVII."
Kevin Mazur/WireImage.com
2004: Hearings begin in Eagle, during which Kobe's attorney, Pamela Mackey, presents evidence that his accuser was taking anti-psychotic drugs to treat schizophrenia when she had her encounter with Kobe and that she had been hospitalized as a danger to herself for four months beforehand. On the prosecution's side, investigators testify that a T-shirt Kobe was wearing that night had a few drops of his accuser's blood on it.
Aug. 10, 2004: Kobe's accuser files a civil lawsuit against him.
Sept. 24, 2004: Eagle County District Judge Terry Ruckriegle dismisses the charge against Kobe after the alleged victim informs prosecutors that she will not testify against him. Kobe issues a public apology, stating: "First, I want to apologize directly to the young woman involved in this incident. I want to apologize to her for my behavior that night and for the consequences she has suffered in the past year. Although this year has been incredibly difficult for me personally, I can only imagine the pain she has had to endure...I also want to make it clear that I do not question the motives of this young woman. No money has been paid to this woman. She has agreed that this statement will not be used against me in the civil case. Although I truly believe this encounter between us was consensual, I recognize now that she did not and does not view this incident the same way I did."
Spring 2005: Vanessa suffers a miscarriage due to an ectopic pregnancy.
May 2005: Kobe and Vanessa renew their vows in a surprise recommitment ceremony planned by Kobe in Laguna Beach.
May 1, 2006: The couple's second daughter, Gianna Maria-Onore Bryant, is born.
August 2007: The pair deny a new round of rumors that their marriage is in trouble.
April 3, 2010: Kobe signs a contract extension with the Lakers worth roughly $90 million through the 2013-14 season.
Dec. 1, 2011: Vanessa signs her divorce petition. Kobe signs a response Dec. 7.
Dec. 16, 2011: Vanessa's divorce petition is filed in Orange County Superior Court. She is asking for joint custody of their children but requests that they live with her most of the time and that their father have regular visitation rights.
"The Bryants have resolved all issues incident to their divorce privately with the assistance of counsel and a Judgment dissolving their marital status will be entered in 2012," their publicist said in a statement, to which the duo added, "We ask that in the interest of our young children and in light of the upcoming holiday season the public respect our privacy during this most difficult time."