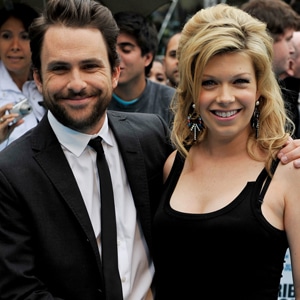 Gareth Cattermole/Getty Images
Oh, happy Day!
It's Always Sunny in Philadelphia standout Charlie Day and wife Mary Elizabeth Ellis welcomed a son yesterday, their first child together, E! News confirms.
The couple, who also share screen time when Ellis plays the waitress Charlie is obsessed with, say that they are "overjoyed and overwhelmed at the amount of love that ushered our baby into the world."
And they gave that little tyke a very special name...
Russell Wallace Day's manly first name is comes from Ellis' side of the family and also honors a dearly departed friend of her, while Wallace is taken from Day's family tree.
Little Russ arrived Thursday in Los Angeles at 7:59 p.m., weighing 7 pounds, 13 ounces, and measuring 21.5 inches long. People first reported the happy news.
Day and Ellis were already seeing each other when It's Always Sunny premiered in 2005 and they tied the knot the following year.
And now their baby can play with Mac and Dee's baby—or babies! Rob McElhenny and Kaitlin Olson's first child, son Axel, is 1, and they're expecting their second this spring. Plus, Glenn Howerton, aka Dennis, welcomed his first child with actress wife Jill Latiano, a son named Miles, in September.
Wow, the gang is a lot more grown up than they seem on TV!