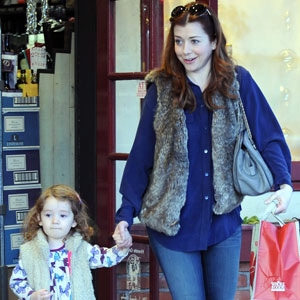 London Entertainment / Splash
Procreating-five...nice!
E! News has confirmed the happy news that How I Met Your Mother's Alyson Hannigan and husband Alexis Denisof are expecting another baby! Plus, Craig Thomas, HIMYM executive producer, reveals his plan for Hannigan's charater on the show...
Hannigan, who plays Lily, one-half of the most adorable married couple on TV, was spotted with a baby bump on Thursday, so the secret is officially out. But there's no need for HIMYM producers to write in the pregnancy or hide her belly behind giant purses, because her character is already knocked up on the show!
Executive producer and co-creator Craig Thomas says: "Everyone at How I Met Your Mother is thrilled for Aly!  And we'd especially like to thank her for timing this perfectly to Lily's pregnancy on the show!  (Apologies to any HIMYM fans hoping to see another series of awkwardly-placed fruit baskets, bowling balls or purses the size of a small canoe)."
When Hannigan was pregnant with her first child, daughter Satyana, HIMYM made sure to keep her bump hidden—with one exception. In a season-four episode, Lily won a hot-dog eating contest and thus had a giant belly to show for it.
Hannigan's character is set to give birth near the end of the current season, in May 2012.
Congrats to the proud parents!