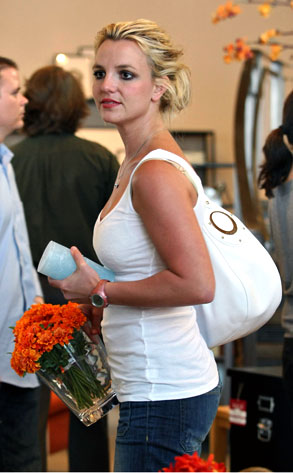 Fame Pictures
It's been pretty easy to forget that Britney Spears has two conservators.
With papa Jamie Spears getting all the attention this year for his hands-on involvement with his 26-year-old daughter and the $2,500 he's been getting each week for all that paternal management, coconservator Andrew Wallet has remained in the shadows.
But now he's submitted his bill. (View the documents.)
The Los Angeles-based attorney, who has been on the more financial, business-minded end of things—while Jamie has squired his daughter everywhere from Koi to Costa Rica—has filed paperwork requesting that L.A. Superior Court Commissioner Reva Goetz approve payment of another $141,961 from Britney's estate for services rendered.
Coupled with the fees he has already received, Wallet's services have cost the popster $324,961.
He is also requesting that Goetz approve additional payments of up to $30,000 per month for future investigating, wrangling, deal-making and paper-shuffling on Britney's behalf.
A host of other legal eagles who have been advising Britney and Jamie Spears since the conservatorship was formed Feb. 1 filed transaction requests last week, asking for fees that collectively totaled nearly $350,000.