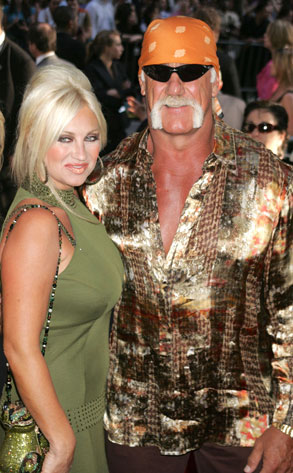 Nancy Kaszerman/ZUMA Press
As far as Linda Hogan is concerned, if her hubby's unwilling to spend his millions on this Las Vegas condominium, he can save his pennies for the jail canteen.
Hulk Hogan's soon-to-be ex-wife was back in court today to press her argument that the former wrestling star should be held in contempt of court for failing to close the deal on a $4.3 million condo they had been planning to buy.
Make him comply, Hogan (who's legal last name is Bollea) said, or else lock him up.
"We asked the judge to either force him to close and if he won't, to put him in jail," Linda's lawyer, A.J. Barranco, exclusively told E! News Tuesday.
The former Hogan Knows Best matriarch first filed her grievance in Pinellas County Family Court in early June.
But one of her estranged husband's attorneys, David Houston, agrees with his client (whose real name is Terry Bollea) that now isn't the best time to be rushing into a big-ticket purchase.