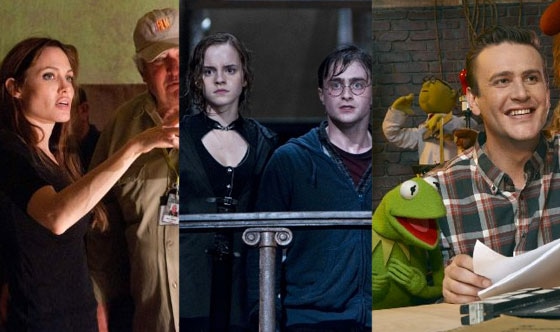 FilmDistrict; Warner Bros; Walt Disney Pictures
1. Harry Potter Didn't Have the Magic:  It's not that Deathly Hallows: Part 2 was expected to be big—it wasn't; its preseason buzz faded a long time ago. It's that Deathly Hallows: Part 2, the franchise's last, best hope for breakout awards-season accolades, got nothing. Nothing. No Original Score. No Alan Rickman. No Best Motion Picture Drama (a longshot, granted). No hope for anything different at the Oscars?
2. The Muppets Got Big-Timed—and Robbed: Pity Kermit and company that the Hollywood Foreign Press, for once, decided to play it straight down the middle in the Best Motion Picture Comedy-Musical category. Every nominated film there is an awards-season contender in good standing; not a Tourist in the bunch. And while the critically acclaimed Muppets was no Tourist, either, its inclusion probably would've been viewed as one of those wacky Globe picks. In reality, it would've been one of the wisest Globe picks. As for The Muppets' exclusion from Original Song—a crime, plain and simple. There's no good explanation for either "Life's a Happy Song" or the Jason Segel-favored "Man or Muppet"  going unnominated.
3. Angelina Jolie?!  You know Globe voters don't have to have their arms twisted to invite either Jolie and/or Brad Pitt to their red carpet, but did you know they'd figure out a way to get both on their invite list? Again? Three years after Jolie and Pitt showed to represent The Changeling and The Curious Case of Benjamin Button, respectively, the couple presumably will be back on the red carpet for his thoroughly expected Moneyball nod—and her under-the-radar nomination for Best Foreign-Language Film for In the Land of Blood and Honey.
4. The Loudest Silence Ever: That's what Tom Hanks and Sandra Bullock's Extremely Loud & Incredibly Close and Gary Oldman's Tinker Tailer Soldier Spy heard. And while it's one thing to be shut out by the Globes, it's another thing to be shut out by the Globes and the SAGs (and, in the case of the Hanks-Bullock film, the AFIs, too). The end appears to be shockingly near for the award hopes of these once-presumed front-runners.  
5. The Nominations Were, Like, Totally Normal: If you were expecting the Globes to act like, you know, the Globes, then you were out of luck. Aside from the Foreign Press' unabashed love for Madonna's W.E., which netted two more nominations (for Original Score and Original Song)  than either Harry Potter, The Muppets and Terrence Malick's The Tree of Life, the group assembled a legitimate awards-show slate. Oh, well, maybe next year… 
Other surprising developments:
• Cars 2, the worst-reviewed Pixar movie of all-time rolled right into the Animated Feature race;
• SAGs contender Melissa McCarthy (Bridesmaids) couldn't crack the crowded Supporting Actress category;
• There were no would-be breakthough nominations for Uggie the dog (The Artist) and Andy Serkis (Rise of the Planet of the Apes);
• Clint Eastwood's J. Edgar was absent from every category, save Best Drama Actor;
• Midnight in Paris' Woody Allen is up for Best Director over the likes of Malick (and Eastwood);
• Glenn Close got a songwriting nod to go with her Best Drama Actress nod, both for Albert Nobbs;
• Matt Damon's We Got a Zoo which hasn't had a breakthough anywhere else, didn't have one here, either—it got zip; and,
• Irish actor Brendan Gleeson seemingly came out of nowhere to nab a Comedy-Musical Actor nod for the low-profile The Guard.
(Originally published Dec. 15, 2011, at 9 a.m. PT)