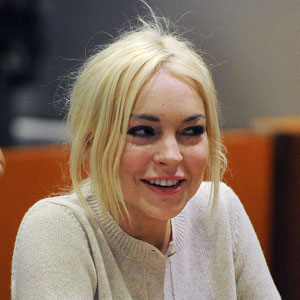 Michael Nelson-Pool/Getty Images
We heard the glowing details, now read them for yourself!
E! News has exclusively obtained a copy of Lindsay Lohan's probation reports, the documents that resulted in Judge Stephanie Sautner heaping praise on the actress in court this morning.
So what do they say?
Among other things, that Lindsay has so far ponied up $100 of her $3,900 legal bill, leaving her with a balance of $3,800 (odd though it may seem, she's right on time—the report notes that the starlet is on a payment plan of $100 per month).
It also echoed what Sautner said in court today: Lohan has made good on the terms of her probation thus far, completing five sessions with a therapist and logging 120 hours of community service at the morgue.
"The probationer is in compliance with the terms and conditions of probation. Therefore, the following recommendation is repectfully submitted," states the report, filed by Lindsay's probation officer, Vilma Mansfield,. "It is recommended that probation be continued on the same terms and conditions."
Keep it up, Lindsay!