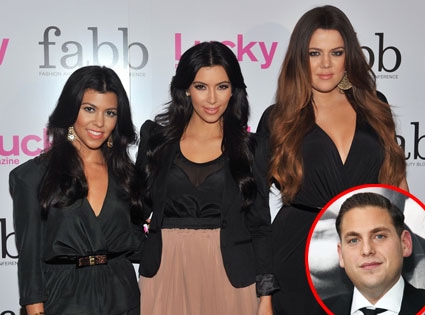 Henry S. Dziekan III/WireImage; Astrid Stawiarz/Getty Images
Well, you can't please all of the people all of the time.
And it turns out, it's not just Daniel Craig who's apparently unmoved by the charm of the Kardashian family. Count newly minted SAG nominee Jonah Hill in his feud-sparking corner, too.
The big-screen funnyman wasn't kidding around this week when he let rip—and how—on the first family of reality TV.
Hill shared his thoughts on Kim, Khloé, Kourtney and the rest of the stars after he was asked by an interviewer about his comments made earlier this month in which he described Kim's divorce from Kris Humphries as "a roller-coaster of emotions" for himself and that he felt "duped" after taking the wedding journey with the former couple.
"That's all a joke," he told the Huffington Post. "The truth of it is, I have friends who work in TV and the Kardashians get higher ratings than their TV shows. Shows that people actually work hard on—writing and creating and trying to tell their stories. The fact that the Kardashians could be more popular than a show like Mad Men is disgusting."
Or simply proof that not every TV viewer shares Hill's perspective.
Still, as if that weren't enough, he continued on, lashing out not only at the family, but at the status they've reached in pop culture, as well.
"It's a super disgusting part of our culture, but I still find it funny to make a joke about it. Whenever I say I like reality TV, people write about it like they're in shock. I can't even understand it, so I watch it.
"I think it's funny and I definitely enjoy it in a making-fun-of-it sort of way, but where does the line sort of end? When do I stop making fun of it and become an actual fan?"
Well, despite Hill, actual Kardashian fans—like the more than 3 million viewers who tuned in to last Sunday's Kourtney & Kim Take New York—can take heart knowing that Barbara Walters thinks they're fascinating, as she includes the family on her ABC special Barbara Walters Presents: The 10 Most Fascinating People of 2011 airing tonight.
And that's no joke.