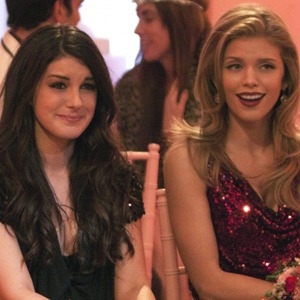 Michael Desmond/The CW
If there's one motto every TV series should live by, it's you can never have too many pretty people on one show.
Take 90210 for example. While they've already got plenty of eye candy in the form of Naomi (AnnaLynne McCord), Liam (Matt Lanter), Annie (Shenae Grimes) and the rest of the gang,  we've learned exclusively that the show is bringing on yet another actor who definitely does not offend our eyes. Consider it the show's early Christmas present to you. 
That's right. One of 90210's lucky leading ladies might be getting a very handsome boy-toy when the show returns from its winter hiatus. So who's the 2 Broke Girls hottie heading to the CW drama? 
Tommaso Boddi/Getty Images
Current 2 Broke Girls recurring guest star Nick Zano is paying a visit to the most famous zip code in the world for a multi-episode arc starting in February. 
The former What I Like About You star is set to play P.J., an adventurous playboy who is the heir to his family's fortune. He'll first befriend Annie and after some tough love from the brunette, the frivolous P.J. will start taking things more seriously and decide it might be the time to start doing something with his privileged life.
While he meets Annie first, we're hearing there's potential for him to become a love interest for one of the women on the show. We're not the betting type, but if we were, we'd put our money on Naomi. 
Zano has also made appearances on Cougar Town, Melrose Place, Drop Dead Diva and starred in The Final Destination.
90210 returns on Tuesday, Jan. 17 at 8 p.m. on the CW.
What do you think of Zano's casting? Which 90210 lady would you like to see score a new love interest? Sound off in the comments!