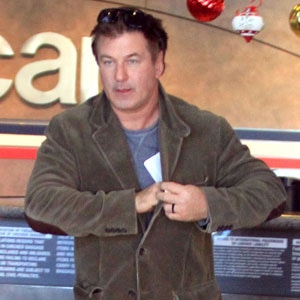 Flynet
Well, well, well. Despite (or because of?) Alec Baldwin's hilarious weekend spoof, it looks like the last laugh in his airline debacle is still up for grabs.
And American Airlines is doing everything they can to ensure it's theirs (while punishing their sitcom-loving passengers in the process!).
E! News has confirmed that the seemingly grudge-holding American Airlines Flight Attendants Union has taken the first steps to make sure Baldwin—or his TV alter ego—never step foot in their planes again.
The airlines confirmed that since Alec's game of Words With Friends gained him some enemies (or more accurately, since the actor spoofed the airline on Saturday Night Live over the weekend), the union has broached the subject with those in charge of making such decisions of pulling the critically lauded 30 Rock from its inflight entertainment lineup.
So if it was possible, the skies just got even less friendly for Alec Baldwin. And less amusing for Alec Baldwin fans.
No decision has yet been made regarding the sitcom's yanking, though an airline spokesperson was quick to explain that NBC routinely rotates which programs it offers onboard the AA flights, and that not every flight offers the same lineup (so just because passengers don't see Tina Fey & Co. on their next voyage doesn't mean the show has been pulled).
Currently, the show does continue to air on some—though not all—of the airline's flights, which is standard programming procedure. For now.