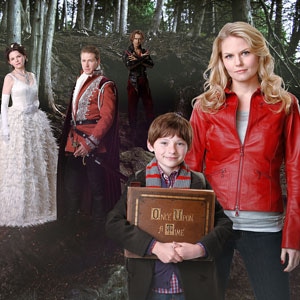 ABC/CRAIG SJODIN L
Spoiler Alert: If you haven't watched last night's episode of Once Upon a Time, then get off the Internet…stat! The following article contains lots of spoilers, so run away if you haven't fired up your DVR yet!
It's always hard to say goodbye to a TV character that we just fell in love with, especially when there was so much potential. Is this really the end? Did they find another TV viewer prettier than us? Do you think that character is thinking of us right now?
Alas, Once Upon a Time killed off a beloved character last night, and we gotta say…it was heartbreaking. Get it? Anyway, we've got something to help with the pain: an exclusive interview with the man behind the dearly departed character, so head on in to hear his thoughts on being the first big death on OUAT. Trust us, it'll help you grieve…
RIP Sheriff Graham (Jamie Dornan), 2011-2011
Can we start this off with a moment of silence for the hottest TV sheriff who has ever sheriffed? Yes, we're talking about Once Upon a Time's Sheriff Graham, who became Regina's (Lana Parrilla) first casualty in Storybrooke (that we know of). While some fans predicted Graham would be the show's first big death, it was still heartbreaking to see the well-vested law enforcement hottie die from a broken heart...literally.
So was last night's doozy of an episode, arguably the series' best thus far, the last we've seen of Dornan on OUAT? Read our exclusive interview with Dornan, where he talks about his exit from the show and his concerns about taking on the role of the Hunstman, Graham's fairy-tale counterpart...
We have to tell you, we're pretty upset Sheriff Graham the show killed off one of our favorite characters. Did you know when you signed on to the series that he would be the first death?
I did know. I knew when we started shooting for real. It makes it a quite odd experience because, obviously, I do feel a part of that family. I've been there since day one; the pilot and then the whole waiting for the series to get picked up. All through that, I didn't know at that stage, to be honest. Yeah, it came as a bit of a shock to me at the start, but then we still had all these episodes to shoot, so I definitely still wanted to be involved in the show.
Was it weird going into the process knowing that you'd eventually be leaving?
It was a strange thing because I've seriously bonded with these people. We're all stuck together for four months and you make proper friendships. The weird thing always weighing in the back of my mind was the episode was getting closer and closer. You start trying to adjust accordingly. I'm not sure if this will be the last you'll ever see of my face on the show, but it's certainly the last you'll see of Sheriff Graham. 
ABC/CRAIG SJODIN/KHAREN HILL
So they've talked to you about possibly returning to the show as the Huntsman in the fairy-tale world?
Yeah, that's been discussed definitely. I mean, my fairy-tale character doesn't die, so there's always that option. There's so much that can happen.
We know you're on Twitter—was it hard for you to keep Graham's death a secret after you wrapped?
Well, that's the danger of Twitter, when Ginny [Goodwin], Jen Morrison, Josh Dallas are tweeting, like, "At a bar in Vancouver!" I thought about stockpiling a lot of pictures of all of us and then using them accordingly, like over the next two months, like, "Hey, here we are in Vancouver!" I'm just quieter on Twitter because people aren't that stupid, you know? They start to work out that there hasn't been a lot of chat about you. I haven't been in places where I need to keep it a big secret, like in London no one has a clue anyway. And with all my friends, because I'm back early, like five years early, they have an idea. [Laughs.]
Your fairy-tale counterpart was the source of a lot of speculation for fans of the show.  Did you know from the beginning that you were the Huntsman or did you find out when you got the script for episode seven?
I did know. Originally I was meant to be someone else, but that didn't end up happening because of rights or something like that. But I knew pretty early on. Not the very beginning, but pretty early on I got the idea from production. And the sooner you know the better because then you can start trying to somewhat play that into what you're doing with your Storybrooke character. I mean, [the Huntsman] is a cool role to play. My only thing is that Chris Hemsworth is playing the Huntsman [in Snow White and the Huntsman]  and he looks like a proper man. I look like, you know, a woman in drag.
Hey, you have the scruff. That's important, too.
[Laughs.] Yes, I have the scruff, but he has the testosterone and the general man-dom. I was watching a lot of pictures with him and his shirt off and with him holding his axe and I'm just a little bit concerned that I'm pathetic in comparison. But that's fine. That's something I have to deal with personally. 
You don't give yourself enough credit! Backtracking a bit, are you allowed to say who Graham's fairy-tale counterpart was originally supposed to be?
I don't know if I am, to be honest. He was pretty impressive, a guy that we all know who's been adapted many times before in film and television.
We're going with Robin Hood.
You're probably right! 
While we're not happy that he's gone, Graham's death was pretty cool. Regina squeezing his heart to death was awesome.
It's pretty gruesome, but you know, it's a little bit cool. Not many people get to die like that. It's a bit cooler than getting shot in the arse or something. So as TV deaths go, I was pretty happy.
What did you think of Graham's exit from the show? Are you sad that, as Dornan said, last night's episode was the last we've seen of Graham? Are you hoping Dornan returns as the Hunstman for fairy-tale flashbacks? And finally: Who's the better Huntsman: Dornan or Hemsworth? Sound off in the comments!