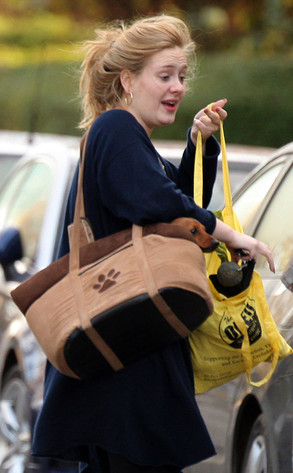 Beretta/Sims/Rex USA
When she's not showing us her inner Beyoncé via her newly found Twitter skills, Adele is hangin' with friends, and her cute little dachshund, Louie, outside London.
Which only proves one thing—it's going to take a lot more than throat surgery to bring this soulful singer down.
Although the Massachusetts General Hospital expected Adele to make a full recovery and although the "Someone Like You" singer wrote on her website, "I'm doing really well, on the mend, super happy, relaxed and very positive with it all. The operation was a success and I'm just chilling out now until I get the all clear from my doctors," it's still nice to see it for ourselves.
Plus, she's got a big night coming up.