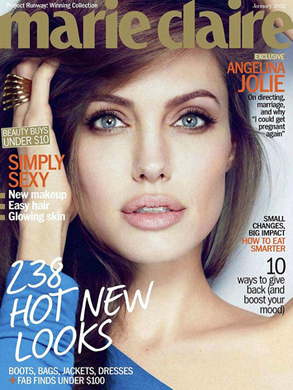 Marie Claire
Brad Pitt is more than the love of Angelina Jolie's life.
"He has expanded my life in ways I never imagined," the actress and director of In the Land of Blood and Honey says in the January issue of Marie Claire.
"We built a family. He is not just the love of my life, he is my family. I hold that very dear. I suppose what I've learned from Brad is to be able to have the kind of family whose happiness and well-being comes before your own. I'm very, very grateful to have such a loving family, and I wouldn't have that without him."
With that in mind, does Jolie think that she and Pitt could end up having even more loving family together?