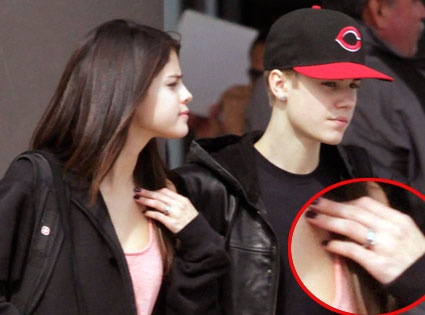 Clasos.com / Splash News
Are wedding bells in one of 2011's top couples' near future?
Rumors of an engagement between Selena Gomez and Justin Bieber started floating around today after a photo surfaced with Biebs' lady wearing a special accessory.
Yup, little Selena is sporting a little diamond on her little ring finger. And although the duo are quite serious and super lovey-dovey, we just couldn't believe that they'd make plans to tie the knot at such a young age (even if other younger peeps decide to).
So is it really happening? Are those diagnosed with Bieber fever going to send hate mail over to Gomez for taking their precious boy toy off the market forever?!
Hold on to that angry tweet li'l girl, this story is...
So false!
Bieber's rep tells E! News that "there is no ring and no engagement." Well, technically, there is a ring, but we catch your drift. A source close to Gomez also tells us that there is no engagement between the teen lovebirds.
We bet that's a big sigh of relief for some of you out there.
Oh wait, what about that big pregnancy reveal?