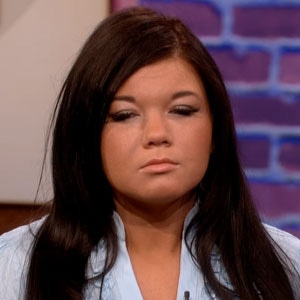 MTV
Amber Portwood is opening up like never before.
"I was diagnosed with bipolar disorder three years ago. I struggle with it. I hate it. I grieve over it," the Teen Mom star told E! News exclusively. "When I went to rehab for two months, they diagnosed me with disassociative disorder too, which makes me black out. People don't understand what it's like."
Things are looking up, though. Amber has a new boyfriend, 22-year-old Mike, whom she's been dating for a month.
"He's a gorgeous man. We haven't spent a day apart since we met. He's different than any of my other exes," admitted Amber. "I always knew I wouldn't be with [baby daddy] Gary [Shirley] for the long term. But with Mike, I know he's the one. We never fight. He balances me out."
She adds, however, that she and Gary are on a better footing with each other. "We're getting along fine, not fighting. Everything is finally good."
What's more, Amber's new guy has already met her daughter, Leah, but not without a little trepidation on the reality star's part.
"Mike has never dated someone with a kid before, so I had to really judge him before I introduced him to Leah," she said. "He didn't really know what to do, and I kind of had to show him. But then Leah started playing  with his toes and drawing snow angels on his carpet and she took to him right away and he was great to her."
Amber also addressed the claim that she attacked someone at an Indiana IHOP last month and recalled the Nov. 18 incident.
"I was with Mike, and yes, we did go have a couple of drinks," she said. "But I was not drunk. We were sitting by ourselves, laughing and talking and my legs were up on his, just having a good time. Suddenly, I hear this couple make these racist comments."
Amber continued: "I looked over and said, 'Excuse me, but why are you starting drama? Please do everyone a favor and keep your comments to yourself.'
Portwood claims the comments didn't stop. "So that's when I got up and told her to shut her f--king mouth."
Amber added that she hates it when people approach her when she goes out, because they often bully and make fun of her.
"I'm sick and tired of people bashing me every time I leave my house," she said. "When I go out, I mind my own business, but people try to fight me and get me going because I guess they think I'm most famous for fighting Gary. I get picked on every time I go out in public. I just want to be a normal 21-year-old. I do my duties, I take care of my child. Yes, I did hit Gary, and what people saw was an angry Amber who reacted to the father of her child telling her he had cheated on her.
"People pick on me just to see if I'll fight them. They think I'm this hard person, but I'm not! I'm a good person. I love my friends. I love people...I just want people to know that people change. I'm doing really well. I'm  happy. Yes, I am on an MTV show, but I deserve a normal life, too. People need to realize that the show, Teen Mom, is on TV just to help others not make the same mistakes. That's it."