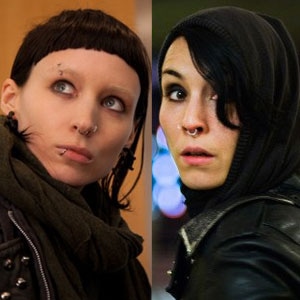 Columbia TriStar; Music Box Films
It's nice to know that Noomi Rapace has no hard feelings toward Rooney Mara whatsoever.
If ya haven't heard, Mara stars in David Fincher's upcoming Girl With the Dragon Tattoo as Lisbeth Salander, the role Rapace originated in the hit Swedish movie adaptation of the best-selling novel.
We caught up with Rapace last night at the L.A. premiere of her new flick...
"I will definitely see it at some point," Rapace told us last night at the Sherlock Holmes: A Game of Shadows premiere in L.A. "I think [Fincher's] incredible."
She's looking forward to seeing the Social Network director's spin on the thriller.
"I think it will be quite different," she said. "It would surprise me if it was kind of too similar."
The 31-year-old beauty says she has yet to see the trailer for the new film.