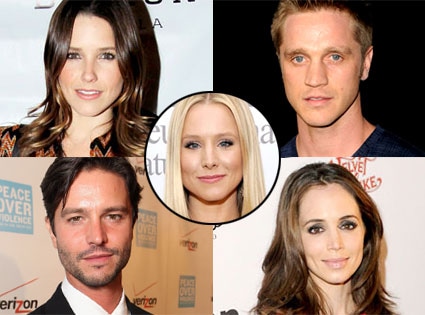 WireImage.com (3); Getty Images (2)
What do Jason Behr, Kristen Bell, Sophia Bush, Eliza Dushku and Devon Sawa have in common, besides the fact that they're all really, really good looking?
They were among the most popular choices submitted by WWK readers when we asked you guys to dream cast the two Original siblings we've yet to meet on the CW's Vampire Diaries.
In a completely shocking turn of events, many of your Original suggestions included actors who are no strangers to the CW network, including several Supernatural stars and an extremely "epic" Ringer guest star. So who made the cut?
For the guys, the most popular pick was definitely Roswell's main alien hottie Jason Behr. Of Behr, commenter Clare says he's "been seriously underused since Roswell and he would be magnificent." We agree on both accounts, Clare, so gold star for you! Coming in second place? Devon Sawa! Commenter justlynn01 raises some good points when she says "he wants to be on the show" and executive producers Kevin Williamson and Julie Plec already know him. Sounds like a match made in casting heaven to us!
Coming in third was Army Wives and Charmed actor Drew Fuller followed by one of our favorite Friday Night Lights hotties Taylor Kitsch (and any true TVD fan knows Ms. Plec loves her some FNL and Riggins). Rounding out the top five was current Ringer guest star Jason Dohring, who is no stranger to playing a centuries-old vamp thanks to the short-lived cult hit Moonlight. Also, he was on Veronica Mars and gave one of TV's most epic speeches ever so he can do no wrong in our eyes.
Other popular picks included Kyle XY's Matt Dallas, Supernatural's Matt Cohen and Misha Collins, who is finally returning to the CW hit for three episodes later this season.
As for the ladies, there's no disputing who the winner was: OTH's Sophia Bush was without a doubt the most popular choice, with commenter Jana saying, "Can already imagine her being bitchy vampire lady with that raspy voice of hers." Preach, Jana. Preach! Coming in second place is one of our favorite actresses on TV Katie Cassidy, who has made memorable appearances on Supernatural and Gossip Girl and was the only bright spot of the CW's short-lived Melrose Place reboot.
Two ladies tied for third: Kristen Bell, the voice of Gossip Girl who is starring in Showtime's new drama House of Lies, and Dakota Fanning, who plays an evil vamp in the Twilight series. Rounding out the top five? Moonlight's leading lady Sophia Myles and Eliza Dushku, she who is loved by Joss Whedon (Hello, Buffy, Dollhouse!) and starred in the greatest cheerleading movie ever made: Bring It On.
Other popular suggestions? Kick-Ass' Chloe Grace Moretz, True Blood's Evan Rachel Wood and Lost's Maggie Grace (who recently made a brief appearance in The Twilight Saga: Breaking Dawn: Part 1).
Other than submitting actors, some commenters suggested some pretty rad ideas regarding the Original siblings. Several of you wrote in saying you hope at least one of the two siblings is a child, which we agree would be awesome. Very Kirsten Dunst in Interview With the Vampire. Rohce says, "I'm guessing that some of them may only still be kids of around 11 and 12 maybe? That could make some interesting twists." Commenter SD adds, "I would love to see a CHILD ORIGINAL, how DISTURBING would that be?"
MustJazz submitted an interesting choice: Nina Dobrev "for her third role as one of the original sisters." Say whaaa?! Her theory? "Remember the original witch (momma original) had to bind the curse to what later would become a doppelganger. We have never seen the original doppelganger. Kat was the first one we saw; then Elena. But where did Kat get her bloodline to make her a doppelganger? Also the originals would have to know what the doppelganger looked like to find her." The mind reels!
What do you think of these picks, TVD fans? Personally, we'd love to see any of these actors take on an Original role, but we have soft spots for Behr, Sawa, Cassidy and Dushku! What do you think of the original doppelganger is really an Original sibling theory? Sound off in the comments!