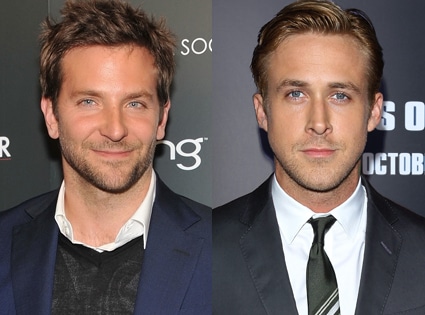 Slaven Vlasic/FIlmMagic; Michael Tran/WireImage
Congratulations, Ryan Gosling fanatics fans. Your work is done.
Your backlash to Bradley Cooper's Sexiest Man Alive pronouncement was swift and so widespread that it did indeed make its way back to the Hangover star.
And the most shocking thing is: He hasn't just heard your plight, he agrees with it.
While appearing on BBC's Graham Norton Show in London over the weekend, the subject of his magazine accolade cropped up and Cooper wasted no time in acknowledging that his reign wasn't without its controversy.
"I'm finally at an age—I'm 36 years old—where I finally don't care about anything like that anymore, which is a wonderful thing. And then this happened, and I started to realize how not sexy I am," he began.
"I swear to God. I'll have a lot of moments where I'll be walking out, and I'll open up the door and go, 'I could've done that a lot sexier. That was not very sexy.' "
And the fan movement to strip Cooper of his title and seat Gosling in his stead did nothing to help the poor gorgeous movie star's confidence.
"There was such a backlash to when they announced it, and Ryan Gosling—who I love, and I just did a movie with him, he's the greatest—but we were both in Paris this last week and a friend of mine showed me, there was photographs from paparazzi...and when I say 'friend,' I mean me, alone in my room looking at the computer.
"And it was of him walking around, and he literally looks like he's in a photo shoot, like he just came off the runway.  With, like, the peacoat, is like this," he said, mimicking an upturned collar, "with the scarf, and there's ones of me, and I literally look like the neighbor that never comes out of his house and when he does it makes you go, like, maybe he should just stay in.
"So it's interesting."
Awww, Bradley! In any case, just as interesting was Cooper's dishing on some Hangover 3 details, telling Norton that the next installment is already on its way.
"I personally want to do it," he said. "I hope we're gonna start shooting in September. Todd Phillips is working on the script…I think it'll take place in Los Angeles and maybe not adhere to the structure. It might be different."
One thing's for sure: It'll definitely be huge. Still, the studio might want to make sure Gosling doesn't have a movie coming out the same weekend.