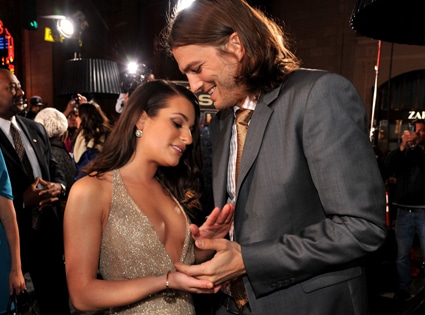 Lester Cohen/WireImage
We'll get to Lea Michele's date for last night's black carpet Hollywood premiere of New Year's Eve (was it really costar Ashton Kutcher?!) in a sec—but first, did you know that the Glee star had to do reshoots for Garry Marshall's Valentine's Day follow-up?!
She did!
Read on to find out why, but stop here if you're not in the mood for a spoiler.
Turns out, Marshall wasn't satisfied with the original ending of the movie, so he asked Michele to come back and belt out a film-ending tune just after the ball drops in Times Square.
"Garry was so sweet," Lea told me. "It wasn't in the script, 'Auld Lang Syne,' and he was like, 'I'm gonna let the Bronx girl bring it in. I'm gonna let her take us home.' I was like, awww! I was always a singer in the movie but I wasn't supposed to end the movie with the song."
Marshall explained, "She's from the Bronx, you know—my neighborhood. She came to me and said, 'I'm from the Bronx, you're from the Bronx. I should be in your movie.'"
Now for Michele's date—it wasn't the newly single Kutcher, but her gay best friend and sometimes Glee costar, hottie Jonathan Groff.
"On my way to the premiere!" Michele tweeted earlier in the night. "Have the most handsome date with me tonight Mr Jonathan Groff :)."
Groff kept a low profile throughout the night, going almost unnoticed. The besties took a few pics together, but he hung back on the carpet as Michele, a total knockout last night, wore a low-cut Valentino gown, Christian Louboutin shoes and Neil Lane jewelry.
She and Kutcher (who not surprisingly wasn't wearing his wedding ring) hit the carpet at about the same time and definitely showed off their chemistry by getting all comfy cozy for photographers. They hugged, touched and laughed...a lot. No surprise, but the Two And a Half Men star skipped doing interviews.
Michele didn't, of course, and later said she will be "forever grateful" to Marshall for giving her the chance to kiss Kutcher. "@aplusk it was such an honor working with you," she tweeted. "I cannot thank you enough."
Costars Chris Colfer, Darren Criss, Harry Shum Jr., Cory Monteith, Mark Salling and Kevin McHale all came out to support their TV leading lady.
Representing from the film were Zac Efron, Michelle Pfeiffer, Sofia Vergara, E!'s own Ryan Seacrest, Josh Duhamel, Katherine Heigl, Hilary Swank, Abigail Breslin (in a fantastic Marchesa dress) and Jake T. Austin.
Unsurprisingly (again), Kutcher skipped the afterparty.