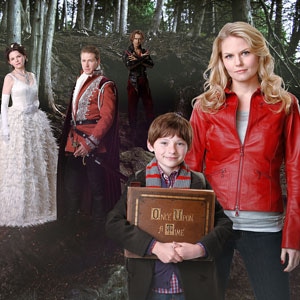 ABC/CRAIG SJODIN L
My, what a guy, that Gaston!
Emilie de Ravin, the time has come to meet your Gaston!
When it was announced that the Lost actress would be taking on the role of Beauty and the Beast's Belle on ABC's Once Upon a Time, fans immediately wanted to know two things: Would she dye her hair brown (she's donning a wig!), and who is playing Gaston? Lucky for you, we've got the answer!
We once suggested Smallville's Tom Welling for the role (and later changed our minds and dream casted him as The Little Mermaid's Prince Eric), so did OUAT heed our advice again? We can exclusively tell you...
We've confirmed that Psych's very own Sage Brocklebank (aka the hilarious Buzz McNab!) has landed the meaty role of Beauty and the Beast's Gaston on the ABC hit show.
Brocklebank will appear in episode 12, titled "Skin Deep," which puts a new twist on the classic tale (as old as time!). While other characters from the original will appear (including Belle's father and the Beast), the episode will also give fans something they've been salivating over: information about the mysterious and elusive Rumplestiltskin/Mr. Gold (Robert Carlyle).
So, given that the title is "Skin Deep" and the word "skin" is actually in Rumplesliltskin's name...take from that what you will.
The episode is set to air on Feb. 12. Once Upon a Time airs on Sundays at 8 p.m.
What do you think of this casting news, Oncers? Is Brocklebank what you imagine Gaston to look like? Sound off in the comments!