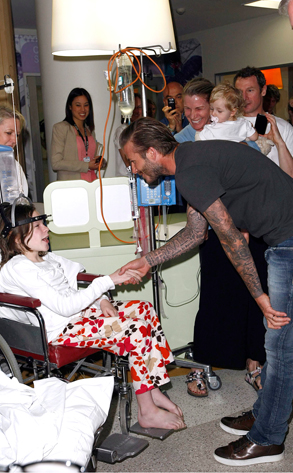 Flynet Pictures
We already knew David Beckham has the looks. Now we know he's got the heart, as well.
The L.A. Galaxy star touched down in Australia this week, and wasted no time in paying a visit to the Royal Melbourne Children's Hospital, where he visited with the young patients and their families in a more than hourlong visit to the facility.
Beckham is in the country for a friendly exhibition match between the Galaxy and Melbourne's Victory, and it could very well be his last with the team. His contract is up following the game, and he's reportedly considering a serious offer from a Paris St. Germain, though told reporters he would be consulting with his family before making any decisions.
In any case, wherever this do-gooder goes, smiles—like those he spread in Australia—are sure to follow.