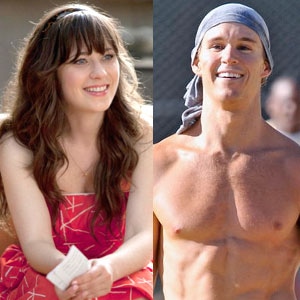 HBO, FOX
The adorkable girls get all the hot guys.
We can happily and exclusively reveal that True Blood hottie Ryan Kwanten will guest star in the Valentine's Day episode of New Girl. Will it be love at first sight for Jess?
Kind of.
Jess (Zooey Deschanel) will be celebrating her first Valentine's Day in six years as a single girl, and what better way to do that than with a meaningless one-night stand? So she drags Schmidt (Max Greenfield) out to a bar to be her wingman, and that is when she meets Oliver (Kwanten). Jess quickly finds out that she has nothing in common with him, which is really the last thing you should care about when it comes to someone who looks like that.
Honestly, if Oliver is shirtless and speaks with Kwanten's Australian accent, does Jess really need to have anything in common with him? We think not.
New Girl's Valentine's Day episode will air in February 2012.
What do you think of Kwanten's guest gig on New Girl? Perfect match for Jess or a disaster in the making?