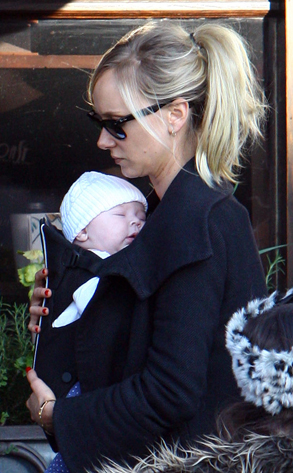 Fame Pictures
Aww!
We can't speak for Benicio Del Toro, but if nothing else, at least Kimberly Stewart's adorably baby girl Delilah seems to have a father-to-be figure in her life.
Rod Stewart's progeny showed off her own 3-month-old daughter for the first time over the weekend, while sharing lunch with her ex-flame turned close pal Jack Osbourne in Los Angeles Saturday.
It was no doubt good practice for the former reality star—who dated Stewart way back in 2005—who announced over the summer that he's expecting his own first child with fiancée Lisa Stelly.
As for Delilah, with that adorable pink baby beanie, she already looks primed to take after her accessorizing, camera-ready mama. So cute!