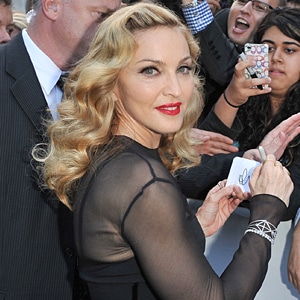 George Pimentel/WireImage
Well, we had at least one Super Bowl bet locked up.
Madonna is going to be the halftime entertainment at the Super Bowl XLVI—it's been confirmed. She'll join a list of musical all-stars that have recently had the gig, including Prince, U2, Black Eyed Peas, Bruce Springsteen & the E Street Band, The Rolling Stones, Paul McCartney, The Who and more. Not to mention Janet Jackson.
And what else do we know? Read on…
According to a joint statement by the NFL and NBC, which will air the big game, Madonna will get some help on the field by Cirque du Soleil and Jamie King. (E! and NBC are part of the NBCUniversal family.)
So expect a spectacle, people. (The actual game oughta be good, too.)
The championship match-up takes place Feb. 5 at Lucas Oil Stadium in Indianapolis, which coincides nicely with the fact that Madge will be releasing her first album since 2008's Hard Candy around then…with the first single likely dropping in February.
Score.
Now if we had a lock on who'll be appearing during the sports-related portion of the day, we'd be set.