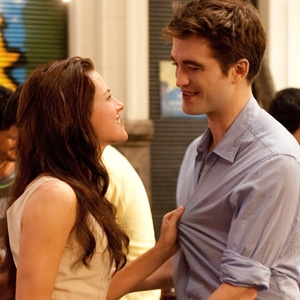 Andrew Cooper, Summit Entertainment
Among the Twilight sequels, Breaking Dawn Part 1 now stands alone at the box office.
It's got longest legs—and the shortest pile of money.
After three weekends in theaters, Breaking Dawn has made about $248 million domestically, putting it about $20 million off the pace of both New Moon and Eclipse.
At the same time, the runt of the litter has made Twilight history by becoming the first film in the franchise to score three straight No. 1 finishes in the weekend standings.
Breaking Dawn is now tied with the The Help for most wins on the year.
Overall, the sequel has blown past the $500 million mark worldwide, and stands in fourth place among 2011's domestic champs.
Elsewhere, there wasn't much elsewhere in a week devoid of major new releases. Box-office returns looked like Black Friday promotions, with nearly everything off by half.
The Muppets had it worst than most. The film plunged more than 60 percent from last weekend, acting more like a teen horror movie than a reslient family film. Overall, it's at an OK $60 million worldwide.
Awards-season junkies gave lifts to George Clooney's The Descedants, which moved up two spots, to seventh place, and The Artist, which averaged about $34,000 at each of its six theaters. 
Here's a complete look at the weekend's top movies, as compiled from the studios' Friday-Sunday domestic estimates and Exhibitor Relations:
The Twilight Saga: Breaking Dawn: Part 1, $16.9 million
The Muppets, $11.2 million
Hugo, $7.6 million
Arthur Christmas, $7.4 million
Happy Feet Two, $6 million
Jack and Jill, $5.5 million
The Descendants, $5.2 million
Immortals, $4.4 million
Tower Heist, $4.1 million
Puss in Boots, $3.1 million