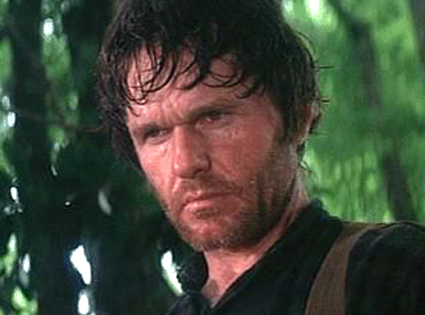 Warner Bros.
Bill McKinney, who played some of the most wicked big-screen villains of all time, among them the Mountain Man in the 1972 drama Deliverance, has died.
He was 80.
McKinney's family took to his Facebook page late Thursday to let fans know the sad news that the veteran character actor had succumbed after a battle with lung cancer.
"Today our dear Bill McKinney passed away at Valley Presbyterian Hospice. An avid smoker for 25 years of his younger life, he died of cancer of the esophagus," read the statement. "He was 80 and still strong enough to have filmed a Dorito's commercial 2 weeks prior to his passing, and he continued to work on his biography with his writing partner. Hopefully 2012 will bring a publisher for the wild ride his life was."
Indeed.
Born on Sept. 12, 1931, following a four-year stint in the Navy during the Korean War, McKinney took acting classes with the likes of Dustin Hoffman at the famed Pasadena Playhouse followed by a stint at Lee Strasberg's Actors Studio before going on to a successful Hollywood career essaying some pretty notorious baddies.
It all started with John Boorman's Deliverance in which the thesp uttered the now classic line as he's about to rape Ned Beatty's character: "I bet you can squeal like a pig."
McKinney also played the assassin opposite Warren Beatty in 1974's The Parallax View.
But it was his long association with Clint Eastwood after the two costarred together in 1974's Thunderbolt and Lightfoot that landed him yet another in a long line of great cinematic sickos. McKinney earned critical plaudits two years later playing Captain Terrell, commander of the Red Legs in the film legend's acclaimed Western The Outlaw Josey Wales, which Eastwood also directed.
McKinney then went on to join the latter's stock company, dubbed the Malpaso Players, and appeared in four more of Clint's movies: The Gauntlet, Bronco Billy, Any Which Way You Can and Pink Cadillac.
McKinney's other film credits include Don Siegel's The Shootist starring John Wayne, First Blood, Against All Odds, Back to the Future Part III, and The Green Mile.
He also spent decades acting on TV, from his debut in 1968's The Monkees, I Dream of Jeannie, Colombo and Starsky and Hutch to The Fall Guy, The A Team, Murder She Wrote and Baywatch.
McKinney is survived by his son, Clinton, along with several ex-wives. No word yet on funeral plans.