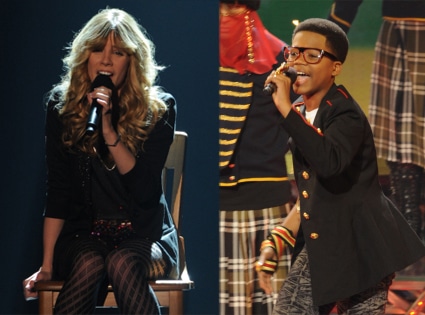 Ray Mickshaw / FOX
We don't think the feud between Simon Cowell and L.A. Reid is ending anytime soon!
Both judges said goodbye to a contestant on The X Factor's shocking results show tonight and before Drew performed her "save me" song, Cowell took to the mic to take the blame, saying he made the wrong choice having her sit in the chair the night before. 
While it seemed sincere to us, Reid isn't buying it, calling Cowell's mea culpa fake! 
So what else did Reid have to say? And what was Cowell's response? Plus, what's next for Drew and Astro? 
"I'm begging these two to give her another shot," an alarmed Cowell asked of his fellow judges Nicole Scherzinger and Paula Abdul before Drew's performance. Unfortunately for Drew and Cowell, Scherzinger and Abdul both chose to keep 20-year-old Marcus Canty in the competition.
When we asked Reid how it felt to see Cowell humbled onstage, he bluntly said, "That was tactical. That was tactical to try to gain votes from Nicole and Paula. It didn't work. Clever, but didn't work." Ouch! So what was Cowell's response to Reid's "tactical" allegation? "He's nuts. He's genuinely nuts," Cowell told us. 
Scherzinger, on the other hand, didn't doubt Cowell's sincerity. "Simon's just trying to make sense of it all because he believes so much in Drew and wanted to see her go all the way," she said, adding that neither Drew or Cowell are to blame for her elimination.
Someone else who isn't blaming Simon? Drew! Though she told us she didn't agree with Cowell's infamous chair choice during her rendition of "Billie Jean" last night, she said, "I'm not mad at Simon. I feel like we were both trying to figure things out and it obviously ended not the way we planned, but I know that God has a different plan."
If he could do it over, Cowell admitted he would have changed "everything" about Drew's performance. "I wouldn't have had the chair, that's history. Everything. I thought on the night I really got this right and I watched the show back last night and I had her and Melanie [Amaro] right at the top," he said. "I don't know what happened. Maybe people thought she was safe? I don't know, but whatever happened, if I had to do it again, I would've done it differently."
Cowell wasn't done taking the blame yet! "The fact that she was there means I got it wrong, and it's not a very nice feeling. I just want people to understand it wasn't her, it was me who got it wrong. 
Steve Jones, the show's host, isn't so sure Cowell got it wrong on Michael Jackson night, saying, "I don't know if he got it wrong, to be honest. I really don't. I think Drew has that ethereal, angelic voice that doesn't do glitz and glamour and fanfare."
As for Astro, the night's other casualty, Reid seemed pretty confident that the rapper will do just fine post-X-Factor. "A 14-year-old kid who enters a singing competition as a rapper from Brooklyn and he makes in into the top seven, I think it's a huge success," he said. "Each week, he gave a magnificent performance. I couldn't be more proud of him. I thought he handled his elimination with poise and great sportsmanlike conduct. I know that we'll see and hear from him again." Reid has yet to sign Astro to his label, but simply answered "no" when we asked if he's going to let his contestant slip away. 
Though he didn't win, Astro still got a lot out of the competition: new material! "A lot of new music coming soon. A lot of stuff that I've been writing while I was in the competition, but couldn't really release," he told us. 
While Astro remained mum about the girl he name-dropped on the show, telling us, "I feel corny that I did that," Drew spilled that she has met Molly! "She is gorgeous," she gushed. "Astro has good taste." 
Like Astro, Drew also said something in her exit interview that had people talking: "Jesus loves all of you guys and I haven't gotten to say that, and that's what I'm here for and that's what I truly was in this competition for."
"That was something I actually came into this competition for and I got astray from that for a long time," Drew explained of her goodbye message. "I forgot what the point of this journey was for me and I got caught up in the whole competing part of it. My last words on the show had to be something inspiring, not only inspiring to me, but to other people. Those were the words that came out!"
As for what's next for her, Drew said, "I don't want to leave Rachel [Crow] and Melanie and any of the other contestants, but I'm happy to get to go back and smell the Arizona air and to start my career."
What did you think of tonight's show? Were you shocked to see Astro and Drew go home? Do you think Simon taking the blame was genuine or tactical? Sound off in the comments!