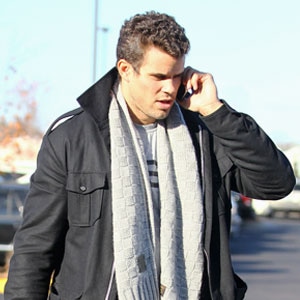 INFdaily.com
Kris Humphries went and did something you don't see every day.
The basketball player filed for both a legal separation from Kim Kardashian and a nullification of their entire union—one seemingly negating the other.
What it really means is that Humphries wants an annulment, but if he doesn't get one, he'll take a separation. According to the dual filing obtained by E! News, Humphries went with the catch-all "irreconcilable differences" as the reason he wants a separation.
But what was the rationale behind the requested annulment?
Humphries checked off "fraud."
Which sounds dire, but is also really quite normal in these cases, fraud being the reason cited by Renée Zellweger when she struck her seven-month marriage to Kenny Chesney from the record.
Humphries also noted that property rights are be determined, asked that the court not award his soon-to-be ex-missus any spousal support and requested that Kardashian pay his legal fees.
But though the paperwork was filed today in Los Angeles Superiort Court, Humphries was thousands of miles away.
The Minnesota native and his mom are in Washington, D.C., for the Partnership for a Healthier America's inaugural Building a Healthy Future summit. Humphries was seen Tuesday at the Omni Shoreham hotel attending a luncheon and several seminars.
"@CoryBooker loved your speech at the Building a Healthier Future Summit in D.C. 'We are a nation of impossible dreamers,'" he tweeted to the Newark, N.J., mayor.
Kardashian, meanwhile, has filed for a plain, old-fashioned divorce.
A source close to the reality star tells E! News, "This whole situation has been upsetting for her. She wanted the annulment when they made the decision to separate, but was told it wasn't an option.
"The whole thing has been extremely difficult as you can imagine. And she wants to be as respectful to Kris as possible and move on in the most amicable way."
—Additional reporting by Claudia Rosenbaum and Marcus Mulick