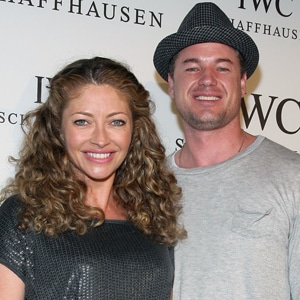 Valerie Macon/Getty Images
Thar she blows! And rather dangerously, at that.
Last night, Los Angeles was struck by powerful Santa Ana winds at speeds that would put freeway limits to shame (we're talking up to 100 mph), and we can count a couple of stars among those who felt the full force of Mother Nature.
Just before 8 p.m. last night, a large eucalyptus tree smashed through the Beverly Hills home of Grey's Anatomy star Eric Dane and his heavily pregnant wife Rebecca Gayheart. So what was the damage? And, more importantly, is everyone OK?
According to various neighbor accounts, the couple—and their young daughter Billie—were indeed home at the time of the scary incident, though luckily no injuries were reported.
Per the local CBS affiliate, the more than 30-foot-tall tree was uprooted by a wind burst and smashed through the wall of couple's home, bursting a water pipe and taking out a parked car in the process.
Firefighters quickly arrived on the scene and shut off power to the home to ensure that none of the exposed wires sparked up and caused further damage.
Reps for the stars have yet to comment, or even confirm that the duo was home at the time. Stay safe out there!