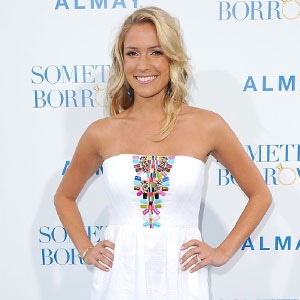 Jason Merritt/Getty Images
Remember about nine days ago when Kristin Cavallari was insisting the engagement rumors surrounding her and former fiancé Jay Cutler were false?
"New week new rumor," the TV reality star tweeted at the time. "I'm not engaged u guys."
Well, guess what? It's a new week....
"This time its official," Cavallari tweeted this morning. "Jay and I are engaged again :)"
The (surprise?) announcement comes on the heels of a photo in Life & Style showing the former Dancing With the Stars contestant out and about last night sporting a rock on her ring finger.
To which we say, congrats...again.
If you recall, the onetime Hills star and the Chicago Bears quarterback first announced last April that they were preparing to tie the knot after about 10 months together. Sadly, though, Cutler changed his mind and ended things with Cavallari in July.
And while the two did recently reconcile, Cavallari was nevertheless kind enough to serve as Lance Cpl. Jonathan Burkett's date at a Marine Corps Ball earlier this month.
"@Jay Cutler6 hey man glad she was able to come! You have an awesome gf and hopefully wife!" Burkett tweeted to Cutler the following day.
Here's hoping that "wife" part actually comes to pass this time around.