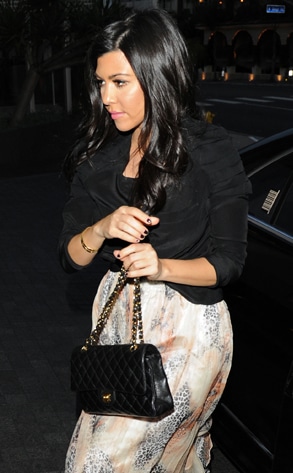 JB Lacroix/WireImage
Can't get enough of the adorableness known as Mason Disick?
Well, you're in luck: He's gonna be a big brother!
That's right,  Kourtney Kardashian and Scott Disick are expecting their second child together.
(Cue Mason's supercute diaper dance.)
In an exclusive statement to E! News, Kourtney says, "Scott and I are so excited to announce that we are expecting our second child and are thrilled to be expanding the love in our family." Kourt first confirmed the happy news to Us Weekly.
And while rumors swirled over the summer that the 32-year-old might already be on her way to delivering a playmate for Mason, it was really just five weeks ago that she even took a pregnancy test. Which, of course, turned out positive, leading her to wake up Scott and tell him the good news—at the bright and early hour of 7 a.m.
"Now I'm nine weeks along," she told the mag. "You're supposed to wait 12 weeks to tell people, but I feel confident."
Meanwhile, Scott said that the pregnancy wasn't exactly a shock.
"It wasn't like we weren't trying," the 28-year-old said. "We kind of just said, 'If it's meant to be, it'll be.' "
And what perfect timing! The eldest Kardashian sister just started her web series, Kourtney's Mommy Blog, on E! Online, where she dishes on what she's learned raising Mason, shares her kid tips, parenting philosophy and A-list know-how, starting with fashion.
It seems fitting that there might be some pregnancy tips coming up soon, too.
Congrats to the growing family!
(Originally published on Nov. 30, 2011 at 3:00 a.m. PT)